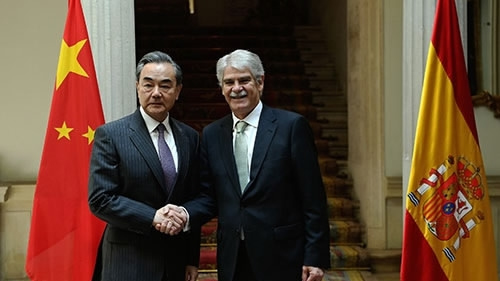 Chinese State Counselor and Foreign Minister Wang Yi shakes hands with his Spanish counterpart Alfonso Dastis in Madrid, Spain, May 17, 2018. /MOFA Photo
China will push for the resolving of the Palestinian issue based on the Two-State Solution amid dialogue together with the international community, said Chinese State Counselor and Foreign Minister Wang Yi commenting on Thursday.
Wang made the remarks on the recent tensions between Palestinians and Israel during a press conference after meeting with his Spanish counterpart Alfonso Dastis in Madrid.
Peace and life are two most precious things in the world, we should spare no effort to fight for every hope for peace and cherish every life, Wang said.
Over 60 Palestinians killed and over 2000 injured by Israeli firing in the Gaza Strip on May 14 when the US moved its embassy to Israel from Tel Aviv to Jerusalem.
Wang said the Palestinian issue is the root of various others in the Middle East, and the status of Jerusalem is at the crux of it.
He reaffirmed the Chinese stance of solving the issue peacefully based on the two-state solution and China's support for Palestinian people's rights to own an independent state.
Two-state solution vs. one-state solution
The "two-state solution" aims at creating an independent Palestinian state and a Jewish one, and is the mainstream approach to resolving the conflict between the two groups of people, while the one-state solution advocates a single state in Israel, the West Bank and the Gaza Strip, disregarding ethnicity or religion.
China has been a staunch supporter of the two-state solution for the past few decades, while the US government had been sticking to this solution ever since the Clinton Administration, until President Donald Trump openly revealed his stance of supporting both solutions only about one month after his inauguration in 2017, triggering concerns about whether the US can be an effective mediator in the Middle East.