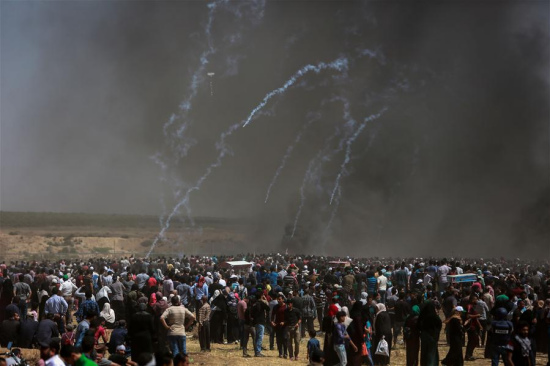 Palestinian protesters clash with Israeli troops near the Gaza-Israel border, east of Gaza City, on May 14, 2018. More than 40 Palestinians, including children, were killed Monday in a day of violent clashes with Israeli forces on Israel's southern border with Gaza, according to the Gaza health ministry. (Xinhua)
The Turkish government has recalled its ambassadors to the United States and Israel after over 50 Palestinians were shot dead by Israeli troops in Gaza, Turkey's state-run Anadolu Agency said on Monday, citing Deputy Prime Minister Bekir Bozdag.
The report was later confirmed by the Turkish embassy in Washington, DC.
The diplomats, currently stationed in Washington, DC, and Tel Aviv, will return to Turkey for "consultations", Bozdag said on Monday, adding that three days of mourning had been declared over Gaza violence.
Earlier in the day, South Africa recalled its ambassador to Israel.
At least 55 Palestinians were killed, and thousands were injured by Israeli army gunfire on Monday, making it the bloodiest single day for Palestinians since the Gaza conflict in 2014.