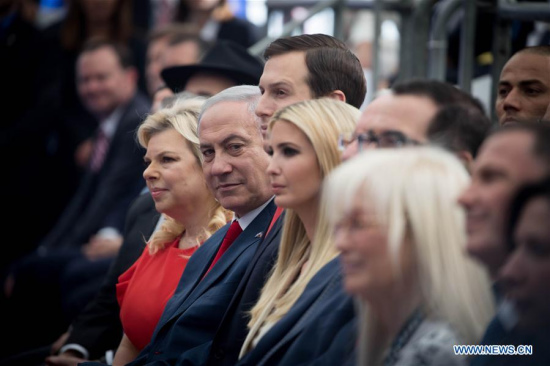 Israeli Prime Minister Benjamin Netanyahu (2nd L, front) attends the inauguration ceremony of the new U.S. embassy in Jerusalem, on May 14, 2018. (Xinhua/JINI)
The inauguration ceremony of the new U.S. embassy in Jerusalem started on Monday afternoon, as Israeli and U.S. officials gathered in the city amidst deadly clashes in the Gaza Strip.
U.S. President Donald Trump said in a recorded message that the embassy relocation from Tel Aviv to Jerusalem was "a long time coming," and the White House still seeks to achieve a peace agreement between Israel and the Palestinians.
Hundreds of officials attended the ceremony, including Prime Minister Benjamin Netanyahu, Trump's daughter Ivanka, his senior adviser and son-in-law Jared Kushner, and Secretary of Treasury Steven Mnuchin.
Hundreds of police officers were deployed around the embassy compound and throughout the city, and many streets were closed down to secure the event.
At the same time in Gaza, at least 41 Palestinians were killed by Israeli fire during clashes near the fence separating the besieged Palestinian enclave and Israel. The Palestinian health ministry said that hundreds more were wounded.
The Palestinian National Authority, Iran, Turkey, and Egypt, as well as international human rights groups, condemned Israel for using extensive fire against mostly unarmed protesters. The United Nations Security Council is expected to convene for an emergency meeting on Tuesday to discuss the killing, following the request of Kuwait.
The protest coincides with the 70th anniversary of Israel's declaration of independence, a day before the Palestinians' Nakba Day, or "Day of Catastrophe."