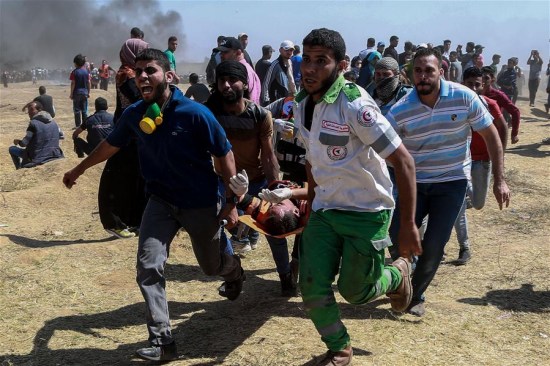 Palestinian medics and protesters carry an injured man during clashes with Israeli troops near the Gaza-Israel border, east of Gaza City, on May 14, 2018. (Xinhua/Wissam Nassar)
A daylong of violent confrontations between hundreds of Palestinian protestors and Israeli soldiers in eastern Gaza Strip close to the border with Israel left at least 55 Palestinians killed and 2,771 injured, said medical sources.
Ashraf al-Qedra, spokesman of the health ministry in Gaza, told reporters that Israeli army soldiers have shot dead 55 Palestinians and wounded 2,771 others, the bloodiest day since the end of the Israeli large-scale offensive waged on the Gaza Strip in the summer of 2014.
He said that seven of the killed Palestinians on Monday are children, adding that 54 injured are in very critical condition.
"Some 1,204 were injured by live ammunition, 13 by rubber-coated metal bullets, 133 by bullets shrapnel and 837 suffered tear gas suffocation," said al-Qedra, who accused the Israeli army of committing a massacre against "defenseless people."
A general strike dominated the Gaza Strip on Monday, involving schools, universities, banks and stores, and streets were empty of traffic and pedestrians.
Tires were burned at crossroads of main streets against celebrating moving the U.S. embassy to Jerusalem.
Buses and trucks were collecting people from the streets and neighborhoods and near the mosques, while loudspeakers of mosques called on people to join the one-million-Palestinian march. Vehicles took hundreds of participants to the areas in eastern Gaza Strip close to the border with Israel.
The Popular Front to Liberate Palestine leader Jamil Mizher told reporters "Today our people are heading to eastern Gaza Strip areas to change the history and record a significant point in their history and their struggle."
"Our people are going out to say no to all conspiracies that target our Palestinian cause, the right of return and Jerusalem. These conspiracies won't pass and our people insist on grabbing their legitimate rights from the enemy and achieve the return, the freedom and the independence," he said.
Head of International Committee of Red Cross sub-delegation in Gaza, Gilan Devorn, had earlier on Monday called for avoiding losses and casualties among Palestinians joining mass protests against Israel in eastern Gaza Strip.
Devorn told a news conference at Shiffa Hospital in Gaza: "We call on all parties to take all feasible precautions to minimize civilian casualties and avoid losses and casualties."
Islamic Hamas movement spokesman Hazem Qasem said earlier that "the Palestinians won't accept by all means to keep living under the siege imposed on the Gaza Strip, and they are determined to write their document of self-determination."
Top Hamas leader in Gaza Mahmoud Zahar told reporters during his participation in the rallies in southern Gaza Strip that despite the crimes of killing and wounding Palestinians, "we will carry on with our marches until our goals are achieved."
"The Israeli threats of targeting Hamas leaders and Palestinian militants reflect the terrorism that Israel is practicing against our people and an evidence of its failure to confront the Palestinian people," said Zahar.
Rallies, protests and confrontations reached its peak on Monday as part of what the Palestinians call "the Great Marche of Return" which started on March 30 and had so far left 104 killed and 12,000 injured.
"(U.S. President Donald) Trump who is moving today his country's embassy to Jerusalem without any concerns or deterrence, is the first and only responsible for the suffering of the Palestinian people's blood shedding today," said Zahar.
Representatives of the National Commission of the Great March of Return said in a news briefing in eastern Gaza city "we call on our people to keep all fronts of struggle opened against the occupation."
"We fully hold the United States and the occupation fully responsible for today's bloody massacre in Gaza. Tomorrow will be a day of grief to reward the spirits of the martyrs and we call on our populations to carry on with the marches of return without a stop," the commission said.
Khalil al-Hayyah, deputy of Hamas chief in Gaza, affirmed "the peaceful marches will continue," saying the Palestinians "who live bitterly life for 70 years will not remain silent and will not retreat until achieving their return, defeating the occupation and establishing their independent state with Jerusalem as its capital."