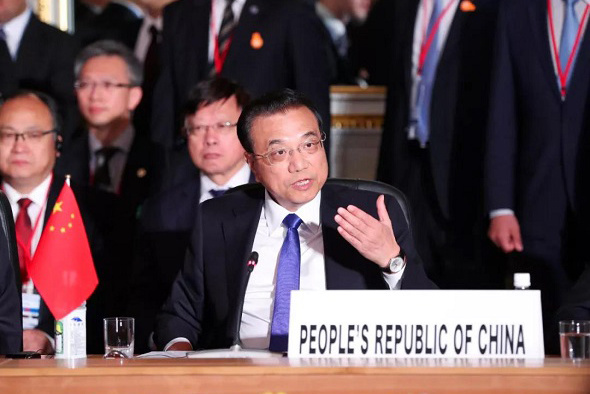 Premier Li Keqiang attends at their trilateral summit with Japan's Prime Minister Shinzo Abe and South Korea's President Moon Jae-in (not in picture) at Akasaka Palace state guest house in Tokyo, May 9, 2018. (Photo provided to China Daily)
Multiple cooperative agreements signed in Japan and Indonesia
Premier Li Keqiang returned to Beijing on Friday after a six-day overseas trip to Indonesia and Japan, where a number of bilateral and trilateral cooperative documents were signed to promote regional integration and uphold free trade.
Japanese Prime Minister Shinzo Abe, who has accepted Li's invitation to visit China at an appropriate time, saw the premier off at the New Chitose Airport in Sapporo, capital of Hokkaido.
In the past six days, Li made official visits to the two countries and attended the seventh China-Japan-Republic of Korea leaders' meeting in Tokyo. He also met with ROK President Moon Jae-in and Japanese Emperor Akihito in the Japanese capital.
The premier also participated in the opening ceremony of the third China-Japan Governors' Forum with Abe in Sapporo.
Friendship and cooperation between China and Japan are beneficial to the two neighbors, the region and the world, Li said at the opening ceremony. This year marks the 40th anniversary of the signing of China-Japan Treaty of Peace and Friendship, and its principles should guide the movement of bilateral ties back to a right track and provide huge potential for local exchanges, he said.
Such exchanges are crucial part of China-Japan ties and the premier called for boosting cooperation in innovation and high-tech industries. Agreements signed during the visit provide more space for the cooperation between local governments and enterprises from the two countries, he said.
Li also called for exploring collaboration in third-party markets, especially in high-end manufacturing, and further financial cooperation. China and Japan should sign an agreement for currency swaps as soon as possible to facilitate investments, he said.
China welcomes Japanese investments and local governments should build an inviting business environment for foreign investors, Li said.
Hokkaido is vital for Japan's modern agriculture and high-tech industries, and China would like to import more safe and high-quality agricultural goods from there, Li said.
China will open its door wider, as President Xi Jinping said at the Boao Forum for Asia, Li said. Local governments should align their advantages with their Japanese counterparts to achieve win-win outcomes, the premier added.
Abe said Hokkaido was a popular destination for many of the 7.36 million Chinese visitors to Japan last year. Local exchanges between the countries provide a driving force to boost friendship and vitalize local economy, he said.
Twelve governors from both countries attended the forum.
Local exchanges between the two countries started in 1973 when Tianjin and Kobe became sister cities. Now, 251 pairs of cities have such ties, said Li Xiaolin, president of the Chinese People's Association for Friendship with Foreign Countries. The forum has promoted local regions' social and economic development in both countries and helped boost stable bilateral ties, she said.
The two leaders saw an exhibition hosted by the carmaker Toyota before arriving at Sapporo airport.