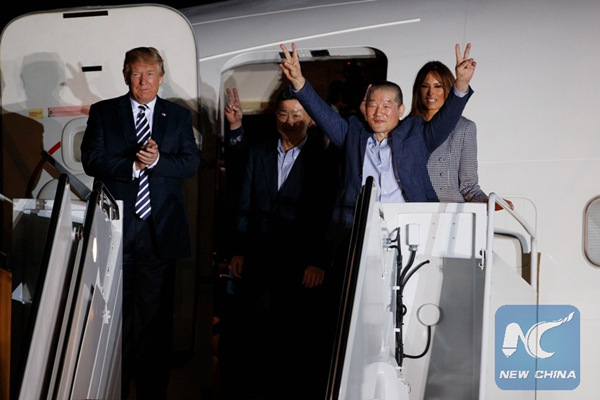 U.S. President Donald Trump (1st L), his wife Melania Trump (1st R) welcome Kim Dong-chul, Kim Hak-song and Tony Kim back to the United States at Joint Base Andrews in Washington D.C., the United States, May 10, 2018. Three U.S. citizens that were just freed by the Democratic People's Republic of Korea (DPRK) arrived in Washington early Thursday, as the two countries saw their ties warm up in recent weeks. (Xinhua/Shen Ting)
Pyongyang this week released three U.S. prisoners in the lead-up to the upcoming meeting between leaders of the two countries, and experts say it's the first step forward in a series of obstacles, speedbumps and hurdles.
"This removes one of the potential obstacles to reaching an agreement with the United States," and the Democratic People's Republic of Korea (DPRK) "seems to be taking every step they can to present themselves as a reasonable partner for the United States," Troy Stangarone, senior director of congressional affairs and trade at the Washington-based non-profit Korea Economic Institute, told Xinhua.
U.S. President Donald Trump earlier this week welcomed back three Americans who had been held prisoner by the DPRK, on what critics said were, at best, spurious charges. The U.S. president said the prisoner release was proof that his diplomacy with the DPRK was working.
"I think you probably broke the all-time in history television rating for 3 o'clock in the morning," Trump told journalists upon the prisoners' return, standing along side of them at the U.S. military base where they landed past midnight.
The event occurred in the run-up to the historic meeting between DPRK leader Kim Jong Un and Trump, which is slated for June 12 in Singapore according to Washington-- the first time a sitting U.S. president has ever met with a DPRK leader.
Brookings Institution Senior Fellow Darrell West told Xinhua that the "time seems right for this type of meeting," since Trump wants the DPRK to denuclearize, Pyongyang needs economic assistance, and the new leader of South Korea hopes to improve family travel to DPRK.
"Each country has different interests, but share a common interest in resolving key elements of this situation," West added.
"The biggest challenge will involve trust and verification. It is not so hard to reach an agreement, but it is going to involve meaningful verification so that the agreement gets fully implemented. That likely will be the most contentious part of the negotiations," West said.
"There is a chance the summit could be successful if each party is willing to make some concessions. There already have been several good faith concessions from several countries and that offers hope of a successful resolution," West said.