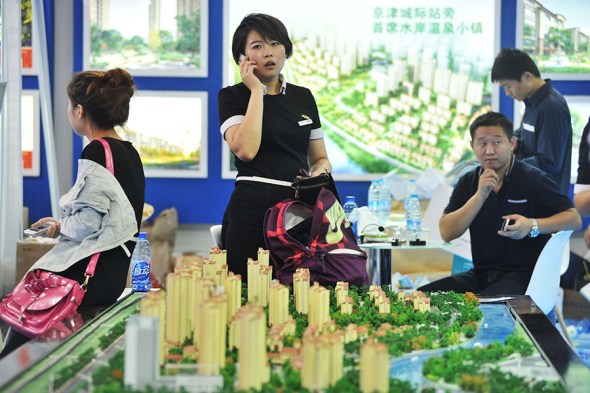 Prospective homebuyers look at a residential property project model at a real estate exhibition in Beijing. (Photo provided to China Daily)
Regulators are working on a policy framework for a real estate investment trusts (REIT) open to public investment in China, but uncertainties about tax policies and the future responsibilities shouldered by different regulatory bodies may delay its official introduction, according to people familiar with the matter.
"The overall trend is China is working towards introducing REITs in the future, but related policies might not come out as quick as expected, say, in the coming months," said a source close to the regulators.
"The major regulatory bodies have yet to reach an agreement on future responsibilities on supervision, and in particular, preferential policies to lower transaction taxes, which need further action from the nation's taxation administration," the source said.
Discussion on the introduction of REITs in China at a regulatory level started as early as 2007, during which time the People's Bank of China and the Ministry of Housing and Urban-Rural Development agreed to start by introducing pilot programs while enacting the law for REITs.
Recent documents from the top financial regulators sent positive signals on the development of real estate investment trusts in China, as the government hopes to promote the growth of the rental market as part of efforts to promote long-term healthy development of the real estate sector.
By selling shares in a trust that owns a collection of buildings, the investment scheme is able to let shareholders enjoy the returns from rental income, while opening a channel to help property companies obtain financing.
A host of guidelines with encouraging signs on promoting the rental market have led to expectations that a policy framework may come out very soon to support REITs, where the overall scale of the investment scheme is expected to exceed 4 trillion yuan, according to an estimate by Peking University.
China has conducted some preliminary trials by starting pilot programs at local levels, and has launched some quasi REITs that could only be held by private equity funds.
"The thing is that all quasi REITs introduced so far are equivalent to bond issuance, which means they cannot lead to high yields to lure investors," Ouyang Jie, vice-president of Future Land Holdings, said at a forum held by Golden Credit Rating in Beijing.
Low enthusiasm for rentals in China is one of key problems putting the brakes on the development of the REIT market, according to Nie Meisheng, president of China Real Estate Chamber of Commerce.
She said the government needs to introduce more policies to encourage rentals.