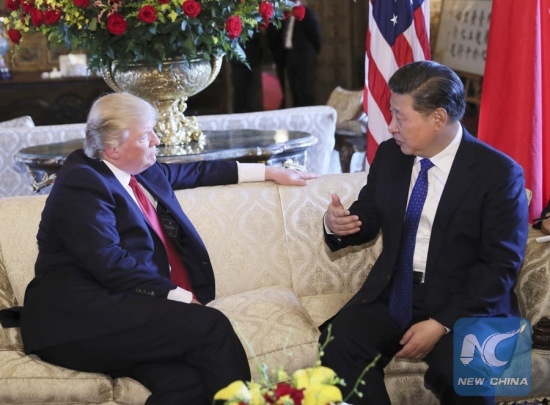 Xi Jinping meets with his U.S. counterpart Donald Trump in the latter's Florida resort of Mar-a-Lago in the United States, April 6, 2017. (Xinhua File Photo/Lan Hongguang)
U.S. President Donald Trump said on Sunday that Washington and Beijing are working to get Chinese telecom equipment maker ZTE, which is suffering from a U.S. exports ban, back into business.
The two sides "are working together to give massive Chinese phone company, ZTE, a way to get back into business, fast," said Trump in a tweet.
The president added that he has instructed the U.S. Commerce Department "to get it done."
ZTE, one of the world's largest telecom equipment makers, was forced to suspend its main operations worldwide after the U.S. Commerce Department prohibited American companies from exporting products to it in mid April.
Following the exports ban, ZTE said it was making active communications with relevant parties to seek a solution to the issue, and stressed that it attached significant importance to export control compliance.
The Chinese public and government are greatly concerned about the fate of the company, which hires some 70,000 people across the globe. The incident also triggered in China extensive discussions about the necessity and urgency to develop a reliable domestic chip industry.
During the latest China-U.S. economic and trade consultations held in Beijing in early May, the Chinese side lodged "solemn representations" with the United States over the ZTE case.
The U.S. delegates responded that they "attach importance to" China's stance and will report it to President Trump, according to a spokesperson with the Chinese Ministry of Commerce.
The ZTE ban is also expected to cause sizable losses for the companies' key American suppliers in both revenues and jobs.
According to an April statement by California-based optical gear maker NeoPhotonics, the company's estimated annualized revenue with ZTE and its supply chain partners would have grown up to 5 percent without the exports ban. Business with ZTE and its supply chain partners accounted for approximately 3 percent of NeoPhotonics' total revenue in 2017.
As the fourth-largest mobile phone supplier in the U.S. market, ZTE said it has estimatedly supported some 130,000 high-tech jobs in America.