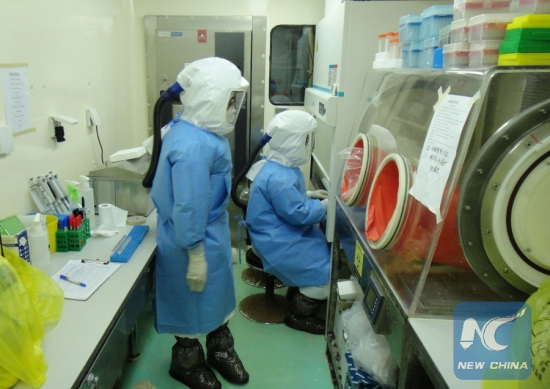 File photo shows members of Chinese mobile laboratory team work at a laboratory in Freetown, capital of Sierra Leone, Jan. 22, 2015, by which time the team had tested 3,995 Ebola-related blood samples including 1,407 tested positive. (Xinhua/Xin Wenwen)
An outbreak of the deadly Ebola virus disease has been declared in the northwest of the Democratic Republic of the Congo (DRC).
There are two confirmed Ebola cases and 17 deaths that are suspected to have been caused by the virus, according to the heath ministry.
This latest outbreak marks the ninth time since 1976 that the Ebola virus disease has been found in the DRC.
The health ministry confirmed the outbreak of Ebola on Tuesday, with two cases being confirmed by the laboratory of the National Institute of Biomedical Research (INRB).
According to the ministry, it was on May 3, 2018 that the provincial health division of Equateur reported at the central level of the Ministry of Health 21 cases of fever with signs and 17 deaths in the Ikoko Impenge health area located in the province.
A team from the Ministry of Health, supported by the World Health Organization (WHO) and Medecins Sans Frontieres (MSF), visited the site on Saturday, May 5. The team found 5 cases, 2 of whom were hospitalized at Bikoro General Hospital and 3 at the Ikoko Impenge Health Center.
According to the Ministry of Health, the five samples taken from suspected cases were sent for analysis to the INRB of Kinshasa on Sunday, May 6. Of the five samples analyzed, two were found to be positive for Ebola virus serotype Zaire by RT-PCR.
"Our country is facing a new epidemic of Ebola that is a public health emergency of international concern. The Democratic Republic of the Congo being at its ninth epidemic of this nature, we have well-trained human resources in this area who have always been able to quickly control the previous epidemics," said Orly Ilunga, Minister of Health in a statement issued in emergency on Tuesday in Kinshasa.
The government also decided to deploy on Wednesday a team of experts from the central level from Kinshasa to Bikoro with a set of appropriate equipment to oversee the investigations and the organization of the response on field.
With this reappearance of the Ebola outbreak, the DRC is at its ninth Ebola outbreak since 1976. The last outbreak recorded by the country took place in May 2017 in the northern province of Bas-Uele which killed four people.