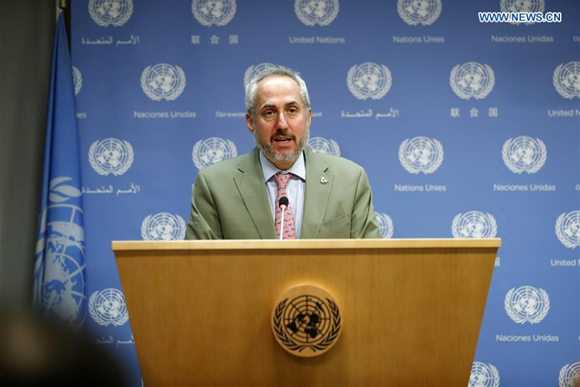 Stephane Dujarric, spokesperson for the United Nations secretary-general, reads out UN Secretary-General Antonio Guterres' statement concerning the US withdrawal from the Iran nuclear deal at the UN headquarters in New York, on May 8, 2018. (Photo/Xinhua)
This week, we were treated to two distinct images of global governance. As details of Chinese President Xi Jinping's meeting with Democratic People's Republic of Korea leader Kim Jong-un were made public, U.S. President Donald Trump announced he would be backing out of the Joint Comprehensive Plan of Action, or the Iran nuclear deal.
For those unfamiliar with the deal, a primer: In 2015, representatives from the five permanent members of the United Nations Security Council — along with the European Union and Germany — negotiated the JCPOA, which created a compliance and enforcement program for the Islamic Republic of Iran's nuclear program. Under the provisions of the plan, Iran would reduce its uranium stockpile, allow regular inspections by the International Atomic Energy Agency and be limited to older, less efficient centrifuges to ensure the country is incapable of developing a nuclear weapon. In exchange, the harsh sanctions regime imposed by the West would be lifted, normalizing relations with Iran and easing tensions in the Middle East.
So why cancel such a deal? Well, besides it being a key plank of former President Barack Obama's foreign policy legacy, Trump believes the agreement is not worth the paper it's printed on. "The fact is," Trump said in his announcement, "this was a horrible, one-sided deal that should have never, ever been made. It didn't bring calm, it didn't bring peace, and it never will." It's likely Trump was persuaded, in whole or in part, by a presentation from Israeli Prime Minister Benjamin Netanyahu claiming the existence of a secret Iranian nuclear program. To make the point crystal clear to the attention span-challenged Trump, Netanyahu projected "IRAN LIED" in huge letters.
Undoubtedly, new U.S. appointees John Bolton and Mike Pompeo also had a great deal of influence. Bolton, the National Security Advisor, said the deal's abandonment presents an opportunity to "stop this dangerous regime." Pompeo, a former Central Intelligence Agency director and Secretary of State, has compared Iran to the terrorist group ISIS. Both are known war hawks, and notorious for their distaste toward Iran. Now that they have Trump's ear, the possibilities for another disastrous conflict in the Middle East have never been greater, especially after withdrawal from a deal Pompeo claims was "built on lies".
This is, of course, utter nonsense. In remarks made at a March press conference, IAEA Director General Yukiya Amano said "As of today, I can state that Iran is implementing its nuclear-related commitments." Amano went on to state IAEA inspection work has "doubled" since 2013, and inspectors spend "more than 3,000 calendar days" per year in Iran. And in the aftermath of the "Iran Bad" PowerPoint, the agency released another statement to debunk Netanyahu's wild accusations. "Although some activities took place after 2003," the agency asserted, "they were not part of a coordinated effort." Said activities, according to the agency, "did not advance beyond feasibility and scientific studies." So not only was there no secret nuclear agenda in Iran, the information Netanyahu presented had been known for years. Israel's "bombshell" was closer to a wet match.
What's more, Trump's claim the agreement was "horrible" and "one-sided" doesn't stand up to scrutiny. If this were the case, why would other countries who were party to the deal declare their continuing support for it? If this were truly a massive giveaway to Iran, it stands to reason the U.S. wouldn't be the only country pushing for withdrawal. Naturally, this isn't happening; every other country has condemned the decision, which threatens stability in the region along with numerous financial interests. The U.S. itself stands to lose a great deal of money from the termination of contracts required by the renewed sanctions regime. Already leaders are reaching out to keep Iran onboard, despite this unfathomable breach of trust. Trump is, yet again, acting alone; everyone knows it, and the subsequent scramble to convince Iran to stay the course is proof.
Trump's decision also imperils the path of peace embarked upon by the Korean Peninsula in the DPRK-Republic of Korea summit and Panmunjom Declaration. Warming relations between the two countries, which began after a conciliatory New Year's address by Kim and continued without meaningful input from Trump, are once more in danger due to U.S. policy. Why would Kim concede anything to Trump at their upcoming meeting if, on a whim, the U.S. will suddenly, unilaterally decide to back out? Former Presidents Bill Clinton and George W. Bush, after failing to hold up their end of the 1994 Agreed Framework, taught the DPRK that lesson once — to say nothing of the bloody intervention in Libya after that country's government pursued a policy of denuclearization. Now a nation with every reason to suspect the U.S. can add one more source of uncertainty to the list.
Iran, for its part, has assured other signatories it would commit to the deal for the time being. Negotiations will continue with China, Russia and Europe to maintain the peace, and if they are successful, the U.S. will be boxed out of another international agreement it did its best to scuttle. As China continues to stress diplomacy and dialogue as a means to solve problems — exemplified by Xi's second meeting with Kim in as many months — the U.S. remains firmly stuck in the past. Determined as the U.S. is to squander the little international goodwill it has left, no one should be surprised when the rest of the world leaves it there.
The author, Ian Goodrum, is a copy editor with chinadaily.com.cn.