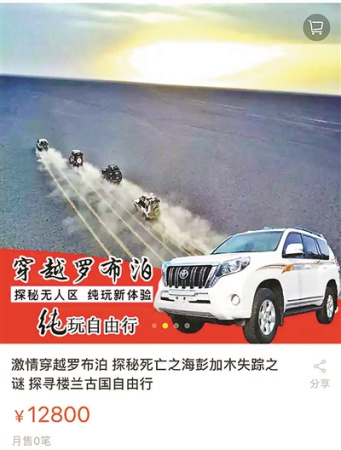 Crossing the Lop Nur Wild Camel National Nature Reserve has become an online sales product. (Photo from web)
(ECNS) -- Authorities at a national reserve in a desert in northwest China's Xinjiang Uygur Autonomous Region have vowed to investigate an unapproved race involving 10 SUVs in the protected zone.
A fleet of vehicles and outdoor enthusiasts from Sichuan entered the Lop Nur Wild Camel National Nature Reserve, also called the "sea of death," on April 24 for a four-day and four-night trip.
A participant surnamed Ma said the fleet held races and that one vehicle was overturned during the trip. Ma also said the event, organized by a car club in Chengdu, capital of Sichuan Province, didn't apply for permission from authorities.
The reserve's administrative bureau said that any kind of tourism or exploratory activity is banned for groups and individuals in the reserve, which covers an area of 61,200 square kilometers and is home to wild animals under first-class national protection.
However, the administrative bureau also said the reserve is very large and that communication signals are weak, so it's difficult to maintain effective supervision. Further complicating matters, some tourists take short-cuts to other attractions by passing through the reserve.
Despite the ban, some tourism agencies have touted cross-country activities within the reserve, reported Beijing Youth Daily. One agency said a nine-day trip across the reserve cost 23,800 yuan ($3,740).
In December, reserve authorities imposed fines on Land Rover China after the company hosted a cross-country event there.