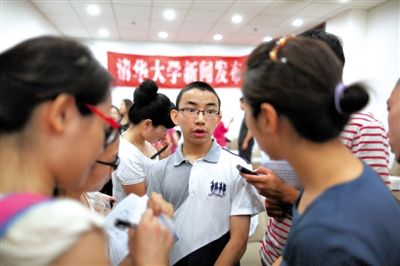 Fan Shukai receives interviews with journalists. (Beijing News/Pu Feng)
A total number of 3374 students attended the freshmen registration in Tsinghua University, Aug. 21, 2013. Amidst, the youngest student is only 13 years old.
Youngest freshman "shocked" president
Fan Shukai, the youngest freshman in the history of Tsinghua University, was born on Dec. 24, 1999, went to the fourth grade at age of five and studied at middle school at seven,. Fan has just made his way straight to Tsinghua University, one of the best elite universities in China
Being called the "whiz-kid", Fan did not agree with the title. He considered himself as a normal student and he said there were no other shortcuts except for exercises after classes.
Fan admitted his mental age is maturer than the actual age. He can take care of himself in other trifles in life like communication with fellow students.
When the president of Tsinghua University met this young man, he could not help but get shocked and considered Fan as "young but experienced". This can be seen evidently from him taking questions from more than ten journalists, and the answers are logical, modest and critical.