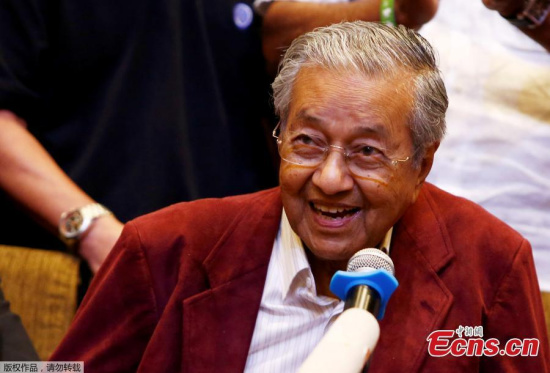 Mahathir Mohamad, former Malaysian prime minister and opposition candidate for Pakatan Harapan (Alliance of Hope) speaks during a news conference after general election, in Petaling Jaya, Malaysia, May 10, 2018. (Photo/Agencies)
Opposition candidate Mahathir Mohamad said he expected to be sworn in as Malaysia's new prime minister on Thursday, just hours after the opposition Pakatan Harapan coalition scored a historic win in the southeast Asian nation.
"We expect that today I will be sworn in as prime minister," 92-year-old Mahathir told a press conference in Petaling Jaya, speaking in English.
"We need to form a government immediately, today," he said, adding that "Najib's role as an interim government is now over," in reference to outgoing Prime Minister Najib Razak.
In a separate press conference earlier, Najib told reporters: "I accept the verdict of the people."
Najib's ruling coalition Barisan Nasional suffered a shock defeat on Wednesday at the hand of the opposition, ending over 60 years in power.
For the first time since Malaysia gained independence in 1957, another coalition will now hold a majority in parliament, with Pakatan Harapan winning 113 out of the total 222 seats, ahead of BN with 79.
Already plagued by allegations of corruption and gerrymandering in this election, BN also had to battle the well-known figure of Mahathir, an outspoken former prime minister, who came out of retirement to run with the opposition.
A former BN figure, Mahathir was seen as a key asset for the opposition, helping to attract ethnic Malay voters, who have traditionally been BN supporters.
At 92, Mahathir is due to be the world's oldest elected prime minister.
He has said however that he will remain in the job for two years at most. He is widely expected to hand over the post to jailed opposition leader Anwar Ibrahim, once the latter is released from prison.
This will depend however on whether Anwar ? who was deputy prime minister under Mahathir in the 1990s ? can obtain a royal pardon, allowing him to return to politics.
Supporters insist the sodomy charges that landed Anwar in jail were politically motivated. He is due to be released next month.
By Sim Sim Wissgott