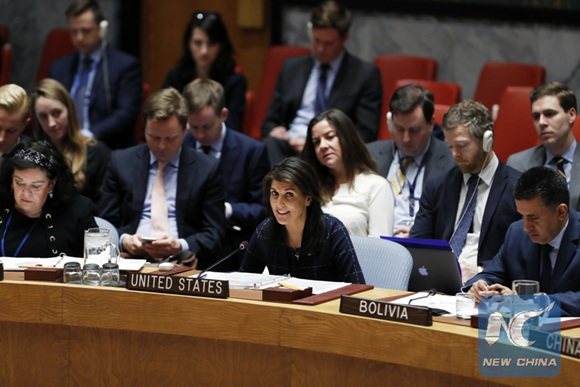 U.S. Ambassador to the United Nations Nikki Haley (C, Front) addresses a Security Council meeting on Yemen, at the UN headquarters in New York, on April 17, 2018. (Xinhua/Li Muzi)
U.S. Ambassador to the United Nations Nikki Haley said Sunday Trump's "communication style" has made her uncomfortable, and has proven to have complicated relationships in the diplomatic sphere.
"He has his communication style, but you're not hearing me defend that," Haley told a CBS interview.
Haley illustrated her disagreement with Trump with a tweet in February accusing Latin American countries turning a blind eye on drug trafficking.
"They're laughing at us, so I'm not a believer in that, I want to stop the aid." Trump said in the tweet, referring to U.S. aid to the region.
Haley later embarked on a trip to Honduras to reconcile and reassure local authorities on U.S. foreign policy. "If they get education and they get training, then we know that they're going to be productive," Haley told the press after the trip, subtly walking back from the threatening tone of her boss.
"If there is anything that he communicates in a way that I'm uncomfortable with, I pick up the phone and call him," Haley said in the interview and added that Trump has been "receptive" her opinion.
Trump has been known to make sensational claims and blunt assertions on social media, which he said helps him get his "unfiltered" message across, but has created controversy and sometimes even rifts in the delicate world of diplomacy.
With his unconventional style, Trump has also created strains with American long time allies in Europe and Asia.