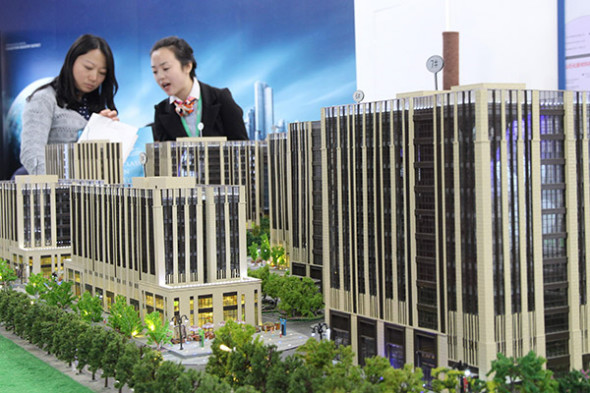 Visitors look at a model of a housing project at a real estate exhibition in Beijing. (Photo provided to China Daily)
The government is taking measures to control property market in order to make sure housing is for living and not for speculation, Securities Times reported Thursday.
Officials from the Ministry of Housing and Urban-Rural Development held meetings with governors in Chengdu and Taiyuan, emphasizing that the goal to regulate property sector remains unflinching and the controls will not be relaxed.
The two local governments were urged to take effective measures to curb speculation and satisfy people's crucial demand for living and ensure healthy development of the property market.
The measures include speeding up housing development plan, providing precise housing supply, adjusting land and housing supply structure, developing small- and medium-sized condominiums to be sold at low and medium price levels and tightening capital control to effectively reduce financial leverage and prevent market risks, the report said.
Before the May Day holiday, officials from the ministry held scheduled meetings with another 10 cities — Xi'an, Haikou, Sanya, Changchun, Harbin, Kunming, Dalian, Guiyang, Xuzhou and Foshan.
The housing price of these cities all had witnessed a rapid growth recently and other cities with fast housing price growth in the future are also expected to have meetings with officials, the report said citing an industry insider's view.
To have scheduled meetings with officials from the ministry is an indirect and effective way of guidance to regulate property price, said Yan Yuejin, research director at E-house China R&D Institute.
China's property market cooled last year, with the government's efforts to rein in speculation, such as purchase restrictions and higher downpayment requirements.
For this year, the government vowed to keep property regulation policies stable and consistent, and introduce a long-term mechanism for real estate regulation.