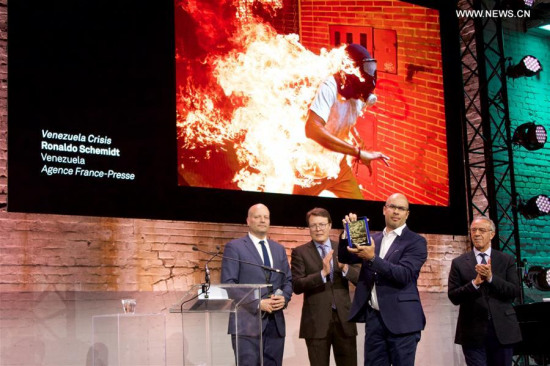 Venezuelan photographer Ronaldo Schemidt (2nd R) shows his trophy in Amsterdam, the Netherlands, on April 12, 2008. (Xinhua/Sylvia Lederer)
Venezuelan photographer Ronaldo Schemidt won the World Press Photo 2018 contest with his picture showing a protester catching fire in Venezuela, the World Press Photo foundation announced during an award show in Amsterdam on Thursday.
Schemidt took the picture, named Venezuela Crisis, on May 3, 2017 for Agence France Presse when the 28-year-old protester Jose Victor Salazar caught fire amid violent clashes during a protest in Caracas. Salazar was set alight when the gas tank of a motorbike exploded. He survived the incident with first- and second-degree burns.
"A classic picture, but with an enormous energy and dynamics," said jury chairwoman Magdalena Herrera. "The colors, the movement, the good composition. This picture has power."
The winning pictures were selected from a total of 73,044 images taken by 4,548 photographers from 125 countries. The jury of the of the 61st annual World Press Photo Contest gave prizes in eight categories.
Chinese photographer Li Huaifeng finished third in the category People, singles, with his picture, named Earth Kiln. He took the picture on Nov. 11, 2017, of two brothers living in a traditional "yaodong" -- kiln cave, carved into a hillside on the Loess Plateau in China.