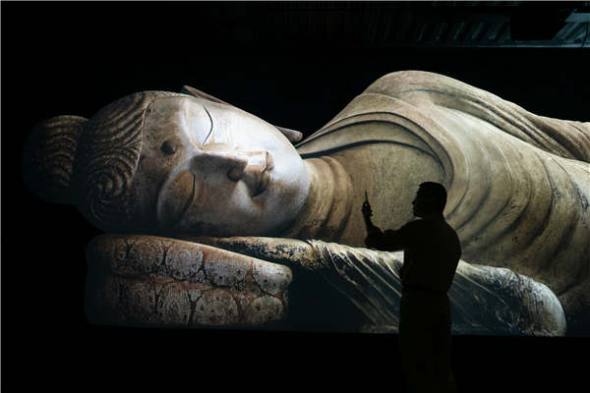 The ongoing exhibition at Shanghai Tower features fullsize replicas of grottoes in Dunhuang and precious cultural relics from seven museums in western China. (Photos by Gao Erqiang and Lin Shujuan / China Daily)
Three grottoes in Dunhuang, Northwest China's Gansu province, have been replicated at Shanghai Tower, the world's second-tallest building, as part of a 10-month-long exhibition.
Jointly organized by the Gansu Provincial Administration of Cultural Heritage, Dunhuang Research Academy, Gansu Provincial Museum, Shanghai Tower and other institutions, the event opened on April 28, with the aim of providing visitors with an immersive experience by leveraging virtual reality and other advanced technologies.
The full-size replicas - two from the Mogao Caves and one from the nearby Yulin Caves - were installed based on digital archives of their originals.
Frescoes in the original caves have been copied using high-definition scanning and printing technologies, says Mi Qiu, curator of the exhibition.
Dating from the 5th to early 11th centuries, they represent three distinct styles of different periods of the Dunhuang grottoes, China's largest Buddhist art treasure.
Among them, the No 29 cave at Yulin was replicated using high-definition technology for the first time in a public presentation. The murals in the caves present the aesthetics and ethnic flavor of the Western Xia Dynasty (1038-1227), and the continuation of religious ideas at the time.
Mogao's No 220 cave presents frescoes from the early Tang Dynasty (618-907), showcasing many ancient musical instruments and dances. No 285 cave, which dates back to the Western Wei Dynasty (535-556) and features a reverse funnel-shaped roof, is said to have the richest contents of all the grottoes in Dunhuang. It depicts Buddhist and Taoist characters.