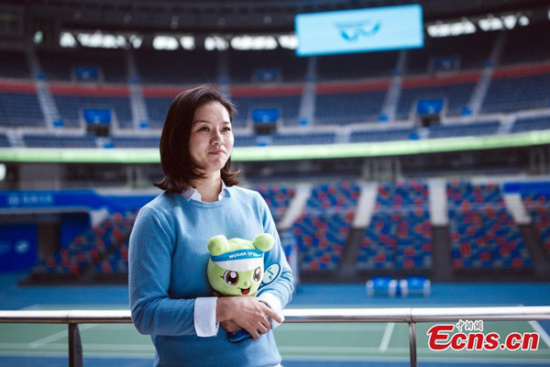 Li Na poses for a photo for promoting the Wuhan Open in Wuhan City, the capital of Central China's Hubei Province, March 22, 2016. (File photo/China News Service)
Retired tennis superstar Li Na has signed a contract with the Wuhan Open to extend her global ambassadorship for the WTA Premier 5 event held in her home city, organizers announced on Sunday.
Li, a two-time Grand Slam champion, was appointed to the post in 2016 for the first time. The two-year contract extention to 2019 was inked as the central Chinese city of Wuhan continues its efforts to bring itself onto the international stage with the help of tennis.
"Li Na has made extraordinary contributions to promoting Wuhan internationally as a city of tennis and a tourist destination," the Wuhan Open organizing committee said in a statement.
It also quoted the 36-year-old veteran as saying that "my hometown is where I started my tennis career. Enabling every member of the public to play and enjoy tennis will in some way extend my tennis career and fulfill the original intention of the Wuhan Open."
During the 2016 and 2017 Wuhan Open tournaments, Li attended the opening ceremonies as well as a series of promotional activities that involve children, young tennis players, fans and other tennis stars.
Born and raised in Wuhan, Li has helped to put Chinese tennis on the global map with her victories at the French and Australian Opens. The Wuhan Open took over from the Pan Pacific Open held in Tokyo, Japan and made its debut in September 2014, exactly the month Li announced retirement.
Li, a mother of two now, said in the statement that she hopes her children will find their own interest in sport for relaxation and it is up to them which sport they choose.
"I don't expect any gifts from the kids on Mother's Day because love is selfless," she said.