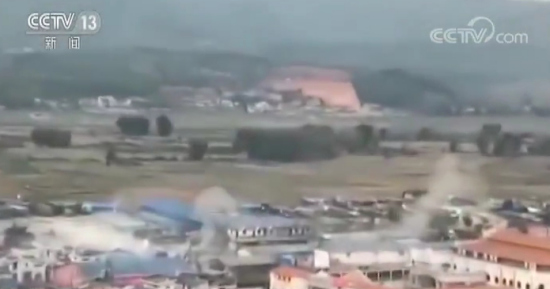 Screenshot of CCTV news.
The Chinese embassy in Myanmar has called for parties concerned to exercise restraint for an immediate ceasefire and take concrete and effective measures to prevent the worsening of the situation, following the outbreak of a fresh conflict between the Myanmar armed forces, police and armed groups in Muse Township, northern Myanmar, on Saturday.
A statement of the Chinese embassy issued late on the day said some Myanmar inhabitants in the border area fled into the Chinese territory and some stray bullets were landed in the Chinese territory.
Condemning the violent incident and saddened by the injuries and death of the innocent people, China has urged the parties concerned to ensure life and property safety of the two countries' inhabitants in the border area.
Pointing out that at present, relevant parties in Myanmar are actively preparing for the third meeting of the 21st Century Panglong Peace Conference and China has been providing required assistance in this regard, the statement voiced firm opposition to any attempt to undermine peace and stability along the China-Myanmar border and any act deliberately obstructing the Myanmar peace process.
The statement called on all parties concerned to enhance dialogue, promote mutual trust, and move forward in the same direction to play a due constructive role in promoting national reconciliation and Myanmar peace process.
At least 19 people, including a police, four militia and 14 civilians, were killed and 27 others injured in attacks by armed groups in Muse township, Myanmar's Shan state Saturday morning, according to a release from the office of the Commander-in-Chief of Defense Service of Myanmar.
The attacks targeting three areas were launched by a combined force of Kachin Independence Army (KIA) and Ta'ang National Liberation Army (TNLA).