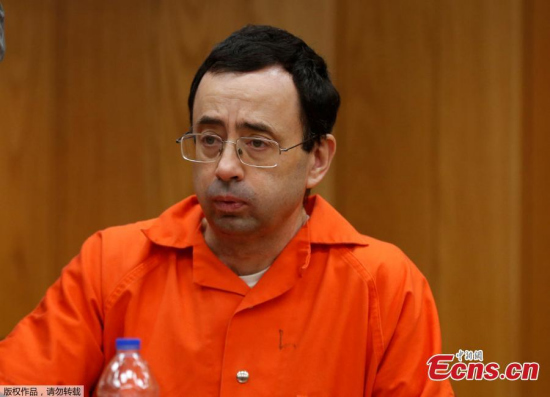 Former Michigan State University and USA Gymnastics doctor Larry Nassar sits during the sentencing hearing in Eaton County Circuit Court in Charlotte, Michigan. (Photo/Agencies)
U.S. Michigan State University (MSU) has reached an agreement in principle totaling 500 million U.S. dollars to settle a lawsuit filed by 332 sexual abuse victims of its former sports doctor Larry Nassar.
The university confirmed the settlement on Wednesday in a statement posted on its official website, saying 425 million dollars will be paid to current claimants, with the remaining 75 million dollars being set aside in a trust fund to protect any future claimants alleging sexual abuse by the disgraced former doctor.
The settlement in principle was agreed to by the MSU board of trustees during a conference call on Tuesday night, according to the statement.
"This historic settlement came about through the bravery of more than 300 women and girls who had the courage to stand up and refuse to be silenced," said attorney John Manly who represents the victims.
"It is the sincere hope of all of the survivors that the legacy of this settlement will be far reaching institutional reform that will end the threat of sexual assault in sports, schools and throughout our society," he added.
Nassar, who served long time as specialist doctor for MSU and U.S. National Women's Gymnastics Team and U.S. Olympic team doctor, was sentenced up to 175 years early this year by state courts on sex abuse charges.
Victims accused the university and other organizations of failing to stop Nassar from continuing to sexually abuse female gymnasts, even after some of them reported their cases.