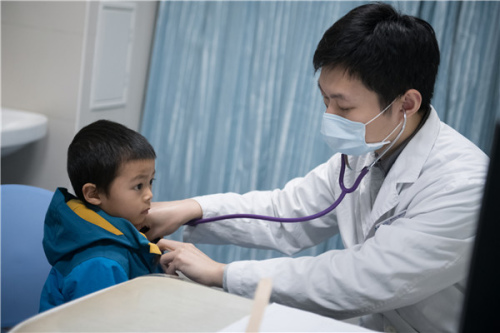 Pediatrician Yang Yang checks a child at Guangzhou Women and Children's Medical Center in Guangdong province in January. (PhotoZHANG ZIWANG/FOR CHINA DAILY)
Fees for medical treatments and examinations of children 6 and younger were raised by 30 percent in Guangzhou recently as a way to keep the city's pediatricians from quitting their jobs.
According to a notice issued by four city government departments at the end of April, the higher fees cover 408 kinds of treatments and examinations for children.
"The increase in fees for children aims to overcome the difficulty in seeing pediatricians and to encourage more medical students to become pediatricians," the notice said.
"The price increase is also expected to encourage State-run hospitals to provide even better medical services to children."
An ordinary diagnostic fee for a child was increased from 10 yuan to 13 yuan ($1.60 to $2.05). A tonsillectomy rose from 520 yuan to 676 yuan.
Gong Sitang, deputy president of the Guangzhou Women and Children's Medical Center, said the policy is people-oriented, as it allows pediatricians to feel respected.
"Pediatricians usually have to be more careful and face heavy pressure in seeing child patients because some of the children are too young to speak or can't clearly describe their symptoms," Gong said.
"Also, most of them are their parents' only child and usually the apple of their parents' eye."
Gong said the price hike will not increase the burden of patients or parents who enjoy medical insurance or who are covered by the country's healthcare system. "Most of the children's medical expense are actually paid by the government and insurance companies," he said.
Fang Zhuohong, a Guangzhou office worker, said she hoped the higher fees would make it easier to see pediatricians.
"Many parents have to spend at least half a day to bring their children to see a doctor in Guangzhou," she said. "Many people won't be able to see senior doctors or specialists if they don't make appointments in advance."
But not all people applauded the move. "The price hike will increase the burden for myriad migrant workers who come from outside the city," said one Guangzhou resident, who refused to give his name. "Many of them don't have local medical insurance and have not yet been included in the healthcare system."
A shortage of pediatricians has seen some city hospitals close their pediatrics departments in recent years.
A pediatrician at a major general hospital, who did not want to be named, said many pediatricians in his hospital have to work overtime.
"Some pediatricians have to see as many as 200 patients a day, about three times the number seen by an ordinary doctor," he said.