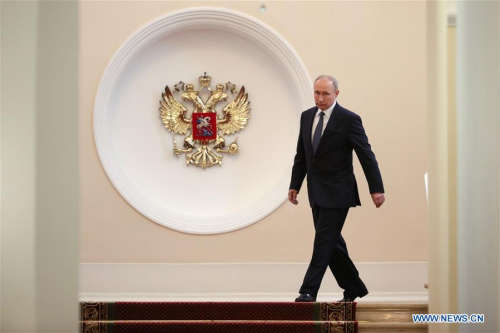 Russian President Vladimir Putin walks in the Kremlin before his inauguration ceremony in Moscow, capital of Russia, on May 7, 2018. Vladimir Putin took the oath of office Monday to start his fourth term as Russian president. (Xinhua/Sputnik)
China extends sincere congratulations on Vladimir Putin's inauguration as Russian president, Foreign Ministry spokesman Geng Shuang said at a regular news conference on Monday.
The Chinese side believes that under the leadership of President Putin, Russia will keep making achievements in its nation building and social and economic development, Geng said.
President Xi Jinping had previously congratulated Putin on his re-election in a telephone conversation in March.
The inauguration ceremony at St. Andrew Hall in the Grand Kremlin Palace in Moscow began with Putin's arrival from his office in the Kremlin in a new Russian-made limousine, which made its debut for the occasion.
Putin previously had been elected president in 2000, 2004 and 2012.
"Russia is a country with a great history and culture, and I, as the president, am obliged to extend them to our next generations," Putin said after taking the oath of office.
Putin affirmed in his address the "security and military capability" of Russia and promised renewal of the economy and restoration of family values.
He stressed the importance of the development of technology, so that it can boost the development of the society and benefit the Russian economy.
Raising the real income of the Russians will be a major task for the country's leadership in the coming years, he said, adding that the actions of the government would help the economy to overcome the slump and to revitalize many sectors.
Over 5,000 guests were invited to the ceremony, according to the Kremlin.
Putin later put forward Dmitry Medvedev for the post of prime minister, the Kremlin said in a statement on its website.
Medvedev's candidacy still has to be approved by the State Duma, or the lower house of parliament.
The bilateral relationship between China and Russia has maintained high-level development and their comprehensive strategic partnership of coordination has reached a historical high, thanks to the two presidents' strategic leadership and personal influence, Geng said.
With both China and Russia at a crucial stage in their development, "we trust that under the leadership of the two presidents, the essence of the comprehensive strategic partnership of coordination between China and Russia in the new era must be further enriched and the path for cooperation between the two countries will become wider," Geng said.