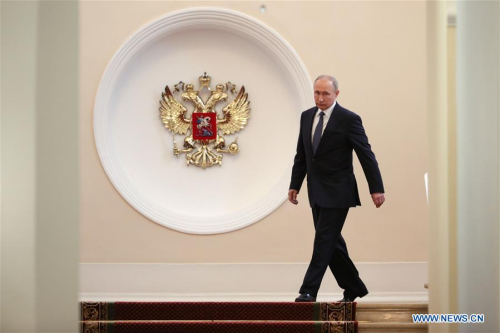 Russian President Vladimir Putin walks in the Kremlin before his inauguration ceremony in Moscow, capital of Russia, on May 7, 2018. Vladimir Putin took the oath of office Monday to start his fourth term as Russian president. (Xinhua/Sputnik)
China on Monday extended heartfelt congratulations to Vladimir Putin on his inauguration for a fourth term as Russian president.
"The Chinese side believes that under the leadership of President Putin, Russia will keep making achievements in its nation building and social and economic development," Foreign Ministry Spokesperson Geng Shuang told a routine press briefing.
Putin took oath of office on Monday in Moscow to start his fourth term as Russian president. Chinese President Xi Jinping congratulated Putin on his re-election in a telephone conversation in March.
With strategic guidance of and personal push by President Xi and President Putin, the bilateral ties have stayed at a high development level, Geng said, stressing that the two countries' comprehensive strategic partnership of coordination was at its best in history.
"The two sides have maintained close exchanges at various levels, pressed ahead cooperation in a large number of fields, and increasingly consolidated their mutual political trust," Geng said.
"Meanwhile, the two countries have exchanged views on major international and regional issues in a timely manner, kept close coordination within the framework of multilateral mechanisms, and made significant contributions to world peace and stability," the spokesperson added.