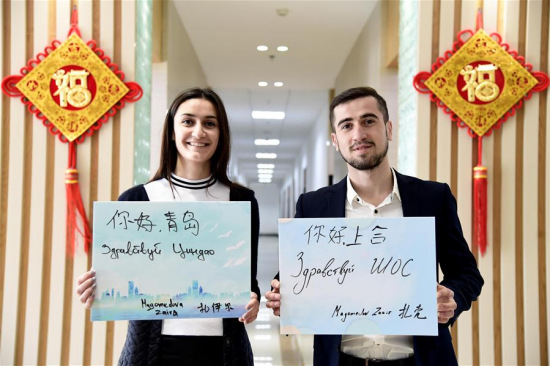 Russian student Zakir (R) and his sister Zaira, both studying in China University of Petroleum, display boards with Chinese and Russian handwritings of "Hello Qingdao" and "Hello SCO", in Qingdao, the host city of the Shanghai Cooperation Organization (SCO) Summit, in east China's Shandong Province, May 3, 2018. (Xinhua/Guo Xulei)
The Shanghai Cooperation Organization (SCO) will hold a summit in June as leaders are expected to exchange ideas on dealing with global issues and roll out cooperation measures for the bloc's future when they gather in east China's coastal city of Qingdao.
The SCO, after 17 years, has grown into the world's most populous comprehensive regional organization. Its full members are China, Kazakhstan, Kyrgyzstan, Russia, Tajikistan, Uzbekistan, India and Pakistan.
The SCO now accounts for over 60 percent of the Eurasian landmass, nearly half of the world's population and over 20 percent of global GDP.
Experts say the upcoming summit is widely expected to inject new drive into the development of regional organization toward a closer "community of shared future" for member countries.
BEDROCK SPIRIT
With a focus on carrying on the "Shanghai Spirit", the bedrock of the SCO, the Qingdao summit will enhance trust and solidarity between the member states and build a closer SCO community.
The "Shanghai Spirit," which features mutual trust, mutual benefit, equality, consultation, respect for cultural diversity and pursuit of common development, has become the spiritual bond of member states on building a community of shared future.
Member countries have been promoting win-win cooperation and shared development in various areas and played constructive roles in regional and international issues.
The SCO has never been simply a security group. The organization has also been devoting itself to the region's development by facilitating trade and investment, enhancing industrial cooperation and promoting people-to-people exchanges.
Meanwhile, the China-proposed cooperation framework of the Belt and Road Initiative (BRI), which features many flagship projects on infrastructure, finance and people-to-people exchanges, heralds greater opportunities for development.
"The SCO and BRI offer mutual support and opportunities to each other, and the BRI concept has already been embedded into the SCO and are making positive progress," said Li Jianmin, a researcher with the Chinese Academy of Social Sciences.
"From theory and planning to practical implementations, cooperation in the alignments of development strategies between China and other SCO member states has also come to a new stage, with a series of projects under steady progress," Li said.