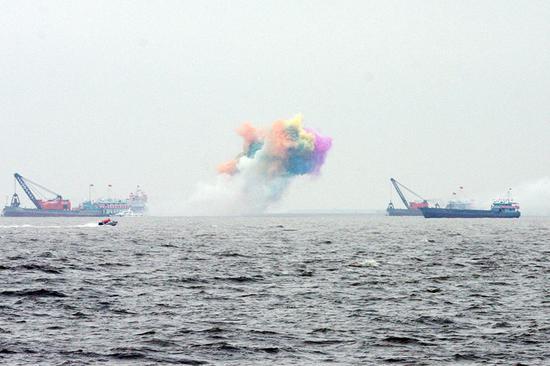 A ceremony with fireworks marked the start of construction in 2009. (Photo by Chen Lin/ for China Daily)
Special: Hong Kong-Zhuhai-Macao Bridge
The bridge, he said, will redistribute resources in the Bay Area and generate a significant impact on regional development.
Noting that the HZMB will be open 24 hours a day, Ni said the structure, for the first time, will provide an unstoppable transportation channel between east and west across the Pearl River Estuary.
Although ferry services run throughout the day, their frequency is reduced substantially after midnight, Ni said. Thus, the operation of the HZMB will significantly increase the flow of people and goods across the estuary.
Ni also noted that the bridge will encourage more Hong Kong people to visit Macao. This will promote communication and exchanges of professional services between the two SARs. He predicted it will help diversify Macao's economy, which is heavily reliant on tourism and the gaming industry.
Construction of the HZMB, the world's longest sea-spanning structure, began at the end of 2009.
Once operational, the bridge will cut the travel time between Hong Kong and Zhuhai or Macao from four hours by car to less than 60 minutes.