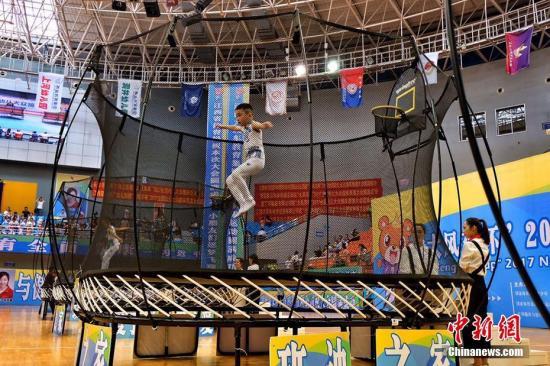 A boy plays trampolining at a pleasure ground. (File photo/China News Service)
(ECNS) - As a competitive Olympic sport, trampoline has a limited number of fans, but in the past two years it has become an increasingly popular recreational activity in many Chinese cities.
He Wenna won the first Olympic trampoline gold medal for China during the 2008 Beijing Olympics, giving an important thrust to people's awareness of the sport.
Since China's first trampoline-themed park opened in 2013, more than 100 commercial trampoline parks have opened in the country, mainly in first and second-tier cities.
Many people take this exercise to improve health.
"People enjoy themselves in this sports. They sweat a lot but they don't feel tired. It's an interesting aerobic exercise," said Li Han, a teacher of Shanghai University of Sport.
Yin Na, a trampoline coach for children, said insiders believe trampoline has entered a golden period of development in China as it draws an ever-increasing fan base.
Wu Qiang, a trampoline enthusiast, said he used to drive an hour to Beijing's suburban area to bounce on a trampoline in 2016, but now there are more parks in the city. The parks are usually crowded on weekends, and not just with children, said Wu, who is surprised by the growing acceptance of the sport in just two years.
Popular reality shows in China have also featured trampolining in their programs this year, further attracting participants to the sport.