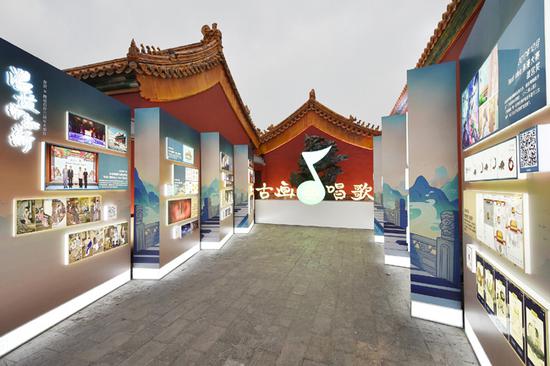 The Palace Museum in Beijing releases its first music album, Oct. 22, 2018. (Photo/China Youth Daily)
(ECNS) - The Palace Museum in Beijing has teamed up with Chinese Internet giant Tencent to launch its first music album, which ties in with 11 of the most famous paintings in the museum's collection.
Shan Jixiang, the curator of the museum, which is also known as the Forbidden City, called the event Ancient Paints Can Sing "a wonderful hyperlink."
In the collaboration, the museum presented 11 masterpieces, including the scroll Along the River During the Qingming Festival by Song Dynasty artist Zhang Zeduan (1085–1145) and An Ode to the Goddess of the Luo River by Gu Kaizhi (c. 345–406), as the inspiration.
Tencent's musical arm invited public contributions of original music to accompany the paintings, while the museum's scholars provided literarary background and veteran musicians helped select the best musical creations.
"The Forbidden City is the carrier of traditional culture and embodies the wisdom and creativity of the Chinese. It is the most important duty of the Palace Museum to explore and spread the spiritual wealth," Shan said.
The museum aims to further integrate new technologies into their collections to help make traditional culture more engaging, Shan said.
The Palace Museum and Tencent formally established a partnership in July 2016 to promote the integration of traditional culture and digital creativity. The museum aims to increase its attraction and influence among tech-savvy young people through the application of games, cartoons, music, apps, artificial intelligence and cloud computing.