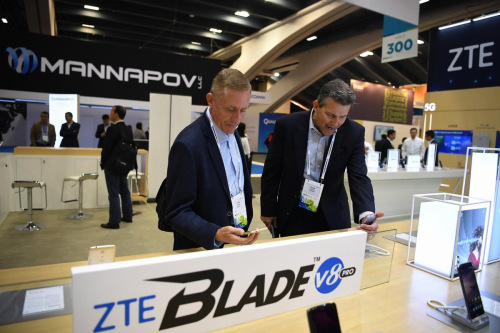 Visitors experience products of Chinese telecom equipment maker ZTE Corp, at the Mobile World Congress America Exhibition in San Francisco. (Photo/Xinhua)
China's semiconductor or chip industry will see explosive growth as the country accelerates plans to develop the market and cut heavy reliance on imports amid a trade standoff with the United States.
Last month, the U.S. Department of Commerce imposed a seven-year ban on export of U.S. chip technologies to Chinese telecom equipment maker ZTE Corp, a move that threatens the latter's supply chain.
However, experts said the ZTE issue may well result in huge development opportunities for the domestic chip industry, which is still a generation or two behind the leading producers.
Shu Qiquan, general manager of Shanghai Qianbo Fund, said domestic chip manufacturers still lag behind leading foreign competitors in chip design, material, and equipment.
Luo Weidong, chairman of Shenzhen Saiya Capital Management Co Ltd, said, "The ZTE issue is like a wake-up call for the country's technology industry. The country will attach great importance to the independent research and development of chips."
For its part, China Integrated Circuit Industry Investment Fund, also known as the "Big Fund", will accept foreign investments, said Chen Yin, chief engineer and spokesman of the Ministry of Industry and Information Technology, which backs the fund, at a news conference on April 25.
The integrated circuit industry provides chips for smartphones, TVs, automotive and other electronic devices. The fund, which raised about $22 billion previously, is near to closing a 120 billion yuan ($18.9 billion) investment round for a second fund to help China secure a leading position in semiconductor design and manufacturing, Reuters reported.
The fund, which was established in 2014 under the guidance of the Ministry of Finance and the Ministry of Industry and Information Technology, is set to help develop the integrated circuit technology companies in China.
Ding Wenwu, president of the Big Fund, said leading companies in the semiconductor industry are the natural targets for investment.
The fund has already picked up more-than-5-percent stakes in 11 listed companies whose combined market value is around 320 billion yuan.
For instance, it owns 15.9 percent of Semiconductor Manufacturing International Corp, also known as SMIC, according to a report in The Beijing News.
It also has a 11.3-percent stake in San'an Optoelectronics Co Ltd and a 9.54-percent stake in Jiangsu Changjiang Electronics Technology Co Ltd.
Stock prices of tech companies that have received investments from the Big Fund, have soared of late.
For instance, Shenzhen Goodix Technology rose from 89 yuan on April 17 to 103 yuan on April 20, with its market value rising by 6.4 billion yuan.
Shu of Qianbo Fund said, "The chip industry is in urgent need of talent and capital, and the authorities should provide financing channels and capital support for chip companies. The chip design, memory, graphic processing unit, packaging and testing, semiconductor equipment, and materials have great investment value."
Chinese firms have been involved in a number of overseas acquisition deals for foreign chip companies. But such deals, including a bid by Tsinghua Unigroup to acquire U.S. chip group Micron Technology Inc, have been blocked by U.S. regulators in recent years.