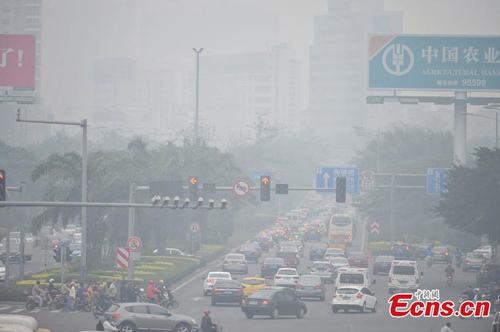 Cars drive on a road amid the heavy haze in Haikou, South China's Hainan province, Feb 12, 2015.[Photo: China News Service/Luo Yunfei]
  Dense fog and haze will now be classified as meteorological disasters in a new weather forecast regulation, according to an official notice on Friday.
  The new regulation, issued by the China Meteorological Administration (CMA), put dense fog and haze alongside typhoons, storms, sand storms and drought on the meteorological disaster list.
  In addition, the CMA will disseminate early-warning information to the public, according to the regulation, with a focus on "the release and spread of weather forecast" rules.
  The new regulation will be put into effect as of May 1 this year, replacing the existing one, which was released on Dec. 31, 2003.
  There were more smoggy days in 2013 than any year in the last 52 years in China.
  Chinese regions and provinces have repeatedly reported high pollution levels, particularly PM2.5 -- tiny floating particles measuring 2.5 micrometers or less in diameter. PM2.5 particles are especially hazardous as they can settle in the lungs and cause respiratory problems.
President Xi to give iron hand to polluters
Prosecutors to take more environment litigation for public interest