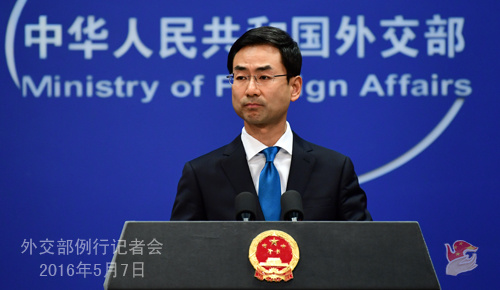 Chinese Foreign Ministry spokesperson Geng Shuang (Photo source: fmprc.gov.cn)
A Chinese Foreign Ministry spokesperson on Monday called on relevant parties to cherish the hard-won situation on the Korean Peninsula, maintain composure and show goodwill.
"The Korean Peninsula situation has gone through a series of positive changes recently towards easing off, thanks to joint efforts from relevant parties. This does not come easy and should be cherished and maintained by all," spokesperson Geng Shuang said at a daily press briefing.
Geng's comment came after the Democratic People's Republic of Korea (DPRK) accused the United States of misleading public opinion and ruining the hard-won atmosphere of dialogue.
The United States attributed the DPRK's clarification of its intention for denuclearization of the Korean Peninsula made through the Panmunjom Declaration to sanctions and pressure, which was criticized by a DPRK foreign ministry spokesperson.
"Under the current situation, relevant parties especially need to maintain their composure, meet each other halfway, talk more for goodwill and easing of tensions, and do more for promoting dialogue and boosting mutual trust," Geng said.
He said he hoped that the planned meeting between leaders from the DPRK and the United States would be held smoothly with positive outcomes, and that the positive development momentum of the Korean Peninsula would be consolidated and strengthened.
"China urges all relevant sides to promote a political settlement on the Korean Peninsula issue and address each others' legitimate concerns in a balanced way, based on the 'dual-track approach,' for lasting peace and stability of the peninsula," he said.
The dual-track approach refers to promoting denuclearization on the peninsula and establishing a peace mechanism.