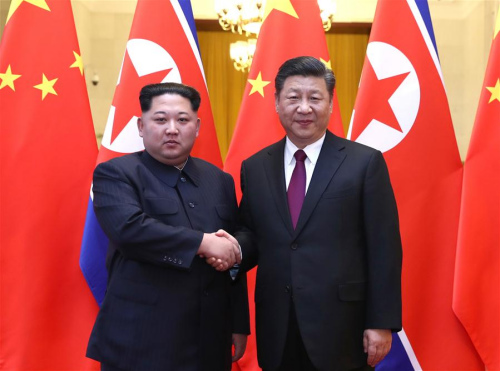 At the invitation of Xi Jinping, DPRK leader Kim Jong-un paid an unofficial visit to China from March 25 to 28, 2018. (Photo/Xinhua)
China has always played an active role addressing the Korean Peninsula issue and makes consistent efforts to push for the denuclearization of the peninsula. China's role helps to propel positive trends in the region and facilitate better communication and coordination.
During 1997 to 1999, the Republic of Korea, the Democratic of People's Republic of Korea, the United States and China held conversations many times to discuss setting up a permanent mechanism to peacefully address the Korean peninsula issue.
In 2003, with China's promotion, Three-Party Talks between China, the DPRK and the U.S. was held in Beijing from April 23 to 25.
In the same year, the Three-Party Talks evolved to the Six-Party Talks between the DRPK, the ROK, China, U.S., Russia and Japan. The first round of Six-Party Talks was held from August 27 to 29 in Beijing.
The Six-Party Talks were held six rounds before it broke down in 2009.
The Six-Party Talks is a helpful and effective platform for all related parties to resolve the Korean Peninsula issue through political dialogue.
This March, Kim Jong-un, top leader of the DPRK, paid an unofficial visit to China at the invitation of President Xi Jinping.
During the visit, the two sides discussed the denuclearization issue as well as bilateral issues.