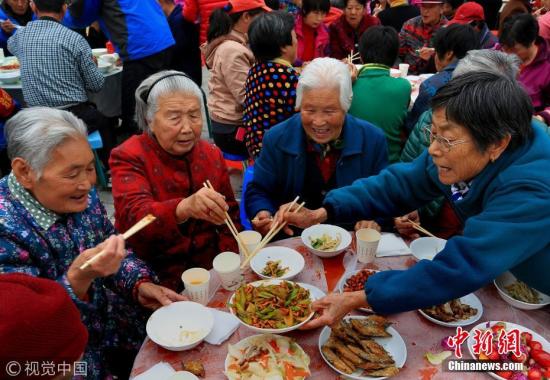 Senior people get together at a "Hundred-family banquet" in Beijing during the Chongyang Festival. (File photo/VCG)
(ECNS) -- China needs to improve public awareness regarding its aging society, according to the Office of the National Working Commission on Aging.
The number of people aged 60 or older reached 241 million in China by the end of 2017, accounting for 17.3 percent of the total population, said the office.
The office and Ziguangge Magazine, a journal supervised by the State Organs Work Committee of the CPC Central Committee, held a seminar in Yantai, Shandong Province, on the inclusion of the aging population as part of education about the status of the country.
The office also said that Party cadres and governmental officials need to take the lead in understanding an aging society, improve their decision-making abilities, and cope with issues in "proactive, scientific and comprehensive ways."