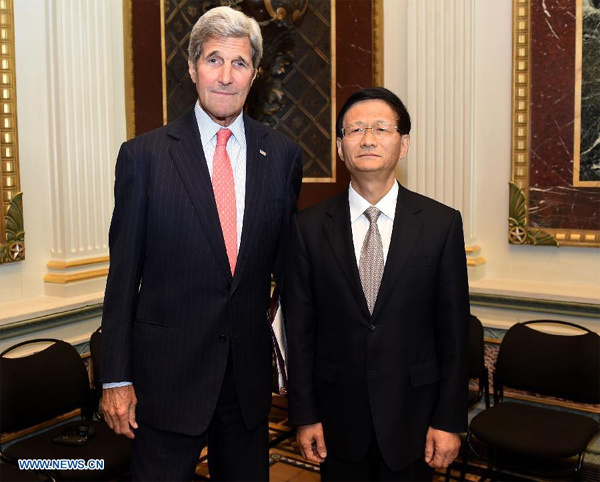 President Xi Jinping's special envoy Meng Jianzhu, a member of the Political Bureau of the Central Committee of the Communist Party of China (CPC) and head of the Commission for Political and Legal Affairs of the CPC Central Committee meets with U.S. Secretary of State John Kerry, in Washington D.C., capital of the United States, Sept. 11, 2015. China and the United States have reached important consensus on combating cyber crimes. (Photo/Xinhua)
High hopes have been placed on President Xi Jinping's state visit to the United States, because many believe it could boost bilateral cooperation in cybersecurity in times of a looming "war" over cyber theft. In fact, cybersecurity is expected to top the agenda of the meetings between President Xi and his U.S. counterpart Barack Obama.
These are challenging times for China and the U.S. both, as the Obama administration is reportedly working on a package of economic sanctions against Chinese companies and individuals that Washington claims have benefited from the alleged cyber-theft of valuable U.S. trade secrets. Actually, China-U.S. disputes intensified even before former National Security Agency contractor Edward Snowden exposed the U.S.' aggressive surveillance program at home and abroad more than two years ago causing huge embarrassment for Washington. Other countries' leaders, including German Chancellor Angela Merkel, corporations and organizations all have become U.S. surveillance targets, according to Snowden.
At the beginning of 2013, U.S. private security company Mandiant released a report, titled "APT1: Exposing One of China's Cyber Espionage Units", which accused the Chinese military of stealing U.S. intellectual property. The U.S. administration went a step further by indicting five Chinese military officers last year for alleged cyber theft, and over the past two months it has threatened to launch cyberattacks on China.
Matters didn't end there, as Washington went on the offensive and stalled China-U.S. cooperation in cybersecurity. Assuming that the traditional semi-open dialogues can no longer put adequate pressure on China, the U.S. has resorted to the "name and shame" game since 2013. Washington's irresponsible indictment of five Chinese military officers last May and threat to impose sanctions against some Chinese companies and individuals have left Beijing no choice but to stand up for its rights.
Judging by the cases mentioned above, Washington's "standard operating procedure" usually starts with some offensive actions, leading to a rapid deterioration in bilateral coordination on cyberspace that China is "obliged" to deal with. More importantly, the U.S.' actions are to meet the political "demands" at home.
The Obama administration and its national security advisers, to a point, are responsible for the widening fissures in the Beijing-Washington partnership for safeguarding cyberspace. And as the top decision-maker of the U.S. national strategy, Obama has failed to make insightful judgments on cybersecurity, especially on how to work with China without being distracted by domestic politics.
To better understand the China-U.S. cybersecurity relationship, one has to understand both countries' comprehensive strategies and the ever-changing post-Cold War world order. In essence, the U.S.-proposed free flow of data, along with and the de facto U.S. control over multi-stakeholders' system, is designed to serve and strengthen the U.S.' hegemony in cyberspace.
In contrast, reiterating its commitment to multilateral, democratic and transparent Internet governance that applies to all regions, China has made it clear that it wants to further the "new type of major-power relationship" with the U.S. and pursue a higher level of multi-polarization in cyberspace. Xi's emphasis on better global cooperation and greater respect for sovereignty in the virtual world at the first World Internet Conference in Wuzhen, East China's Zhejiang province, last year is an apt example of China's commitment.
Beijing would like to see Xi and Obama succeed in making things right during their meetings later this month. But to rebuild mutual trust, Washington needs to make more efforts.
On one hand, the U.S. has to stop being a cyberspace hegemony, and try to understand what the Internet really needs to work efficiently. On the other, it has to avoid being misled by some short-sighted, ill-intentioned American interest groups and seek revenge on China.
As two influential cyber powers, China and the U.S. are supposed to work closely to resolve their disputes over cybersecurity, and that can be done only through efficient cross-border cooperation. In particular, to set a proper example for countries facing similar issues, the U.S. should abandon its hawkish stance on China when it comes to cybersecurity and, instead, thrash out a benign cooperative mechanism.
The author, Shen Yi, is an associate professor in the Department of International Politics at Fudan University in Shanghai.