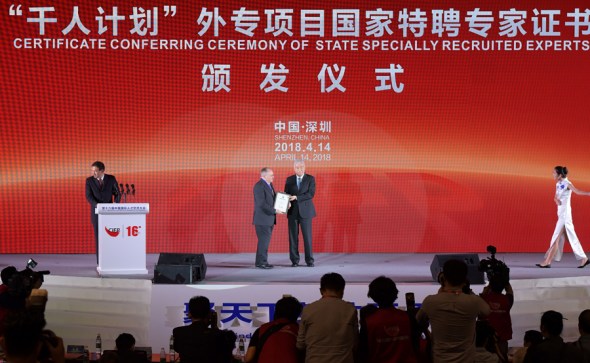 A foreign expert receives a certificate at the 16th Conference on International Exchange of Professionals in Shenzhen, Guangdong province, on Saturday. (Photo for China Daily/Xuan Hui)
Organizational change will help in many ways, vice-minister says
China will improve services to attract foreign talent to study and work in the country, Vice Minister of Science and Technology Zhang Jianguo said on Saturday.
"China has placed unprecedented importance on attracting foreign talent since 2012," said Zhang, who is also director of the State Administration of Foreign Experts Affairs.
He was speaking at the opening ceremony of the 16th Conference on International Exchange of Professionals in Shenzhen, Guangdong province.
Foreigners made around 960,000 trips to the Chinese mainland last year, 60,000 more than in 2016, according to the administration.
"We will have more positive, open and effective measures to attract foreign talent," Zhang said.
The administration merged with the Ministry of Science and Technology last month as part of China's latest government revamp.
"The merger will improve China's recruitment systems, expand platforms and optimize services for foreign experts, thereby creating a more convenient and favorable environment for them to settle in China," Zhang said.
Chen Dongmin, dean of Peking University's School of Innovation and Entrepreneurship, said China has improved greatly in fields such as nuclear energy, high-speed rail and satellite communication, thanks to talent exchanges with other countries.
China's technological development also benefited from having strong, well-planned national support, as well as major investments from all parts of society, said Daniel Calto, director of solution services at Elsevier Research Intelligence, a global science analytics firm.
"Although China does not have many permanent immigrants, its growing global collaboration with other universities and institutes has created a strong talent network," he said. "My advice is to increase this type of collaboration. We will start to see China gaining more influence in multiple scientific fields."
Steven Chapman, group vice-president for China and Russia at global engine manufacturer Cummins, who has been in China more than three decades, said, "My first impression of Chinese partners is integrity."
"We are living in a globalized world, and a nation's economic development depends on foreign trade and talent exchanges," Chapman said. "Cummins has brought its technology and management to China, and we have seen healthy development based on mutual innovation and complementary advantages."
Chapman, a recipient of the Chinese Government Friendship Award in 2016 and a Chinese "green card" holder, said China's policies toward foreigners have improved dramatically in the past few decades.
"In the past, expats could only stay in selected hotels, and our visas expired in a month," he said. "It is now much more convenient for foreigners to visit, and there has been a real effort in establishing a positive and healthy environment to attract foreign talent."
However, some issues pose a challenge and cause trouble for foreign experts, Chapman said-for example, pollution, unfamiliarity with local policies and the difficulty of getting a Chinese green card.
Peter Lobie, a medical professor at Tsinghua-Berkeley Shenzhen Institute, said: "China still has room to improve in terms of helping foreign experts settle in. But it is great to see China on the path of incrementally improving services for foreigners."
Lobie has been working in and out of China for more than a decade, and four months ago decided to remain in China full time. He said the growing convenience of living in the country; the large market for advanced, potent drugs; and the high level of appreciation for his work were all reasons behind his decision.
"As for other foreign experts who might come, I think it is just a matter of taking a leap of faith," he said. "You have to take the first step of coming, and understand that you are well supported in China and you will have a rewarding experience."