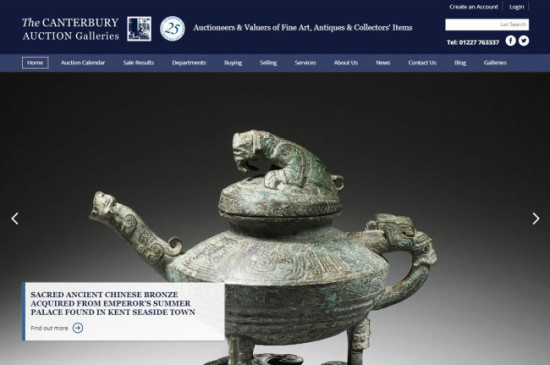 Screenshot of the Canterbury Auction Galleries' website with a picture of the Tiger Ying. (Photo/China Plus)
China's State Administration of Cultural Heritage will release a list of cultural relics that have been reportedly stolen from foreign countries. China will prohibit them from being auctioned if they are found in China, reports China News Service.
This move comes after the United Kingdom's Canterbury Auction Galleries sold a bronze Chinese water vessel for 410,000 British pounds (around 581,500 U.S. dollars) earlier this week, despite strong opposition from Chinese authorities.
An article on the website of China's cultural heritage administration said that although reclaiming the Tiger Ying water vessel would be hard, there are still many other ancient relics that can be recovered through legal means.
Huo Zhengxin, the author of the article and a professor at the China University of Political Science and Law, suggests Chinese organizations and individuals refrain from taking part in auctions of cultural relics that were illegally obtained.
China's State Administration of Cultural Heritage will also establish an information sharing platform with the Public Security Bureau to document and trace China's lost treasures.