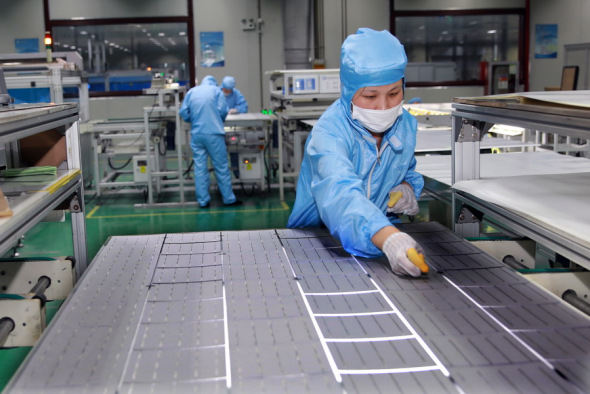 An employee puts finishing touches to photovoltaic products at a facility of Shenzhou New Energy Co in Lianyungang, Jiangsu province. (Photo for China Daily/Si Wei)
China's newly established Ministry of Ecology and Environment will play a significant role in meeting the commitment to the reduction of greenhouse gas emissions worldwide, said an official from the Energy Foundation-an international non-governmental organization aimed at promoting the use of clean, reliable, and secure sources of energy.
In addition, it will also help China cut local pollutant emissions, such as PM 2.5-particulate matter with a diameter of or less than 2.5 micrometers, sulfur dioxide and nitrogen oxides, said Zou Ji, president of the Energy Foundation China.
"China's current energy structure is able to reduce both greenhouse gas and local pollutant emissions simultaneously. With the new ministry established, the government will have more control over technical, political, strategic and financial solutions, realizing a synergistic effect," Zou said.
Laurence Tubiana, chief executive officer of the European Climate Foundation, said: "President Xi Jinping's commitment to green energy is important. I don't think we can carry on this enormous economic transformation without high-level commitment."
She hoped Europe and China could work hand in hand to focus on green investment, green technology, economic transformation and trade. "It is important not to lose that momentum," she added.
US Special Envoy for Climate Change Jonathan Pershing agreed. "China is a major power with enormous influence in the region and in the world... Over the past several years, we have seen an increase in China's interest and engagement in green energy, and I hope the new structure continues to move that forward," he said.
China has been taking the lead in new energy contribution in recent years.
According to a recent report by Bloomberg New Energy Finance, China is in pole position in investing in the photovoltaic industry. In 2017, total PV investment around the globe reached $160.8 billion, up 18 percent year-on-year, among which the investment from China totaled more than 50 percent at $86.5 billion.
The nation's new PV installation last year reached 53 gigawatts, a great increase from 2016.
Justin Wu, general manager of BNEF Asia-Pacific, said that "China's PV installation in 2017 was 20 GW higher than we estimated."
"This is partly due to the pressure of industry development, in that Chinese regulators have not strictly limited the scale of new ground power stations, although the burden of subsidies had become increasingly severe and power curtailment problems continued to spread," he said.
"In addition, there are an increasing number of rooftop PV projects in the nation's industrial parks, whose capacity is not limited by the government."
Wu added: "China's large-scale power consumers have begun installing PV panels to meet their own electricity needs. As the cost continues to decline, the economic advantages on the consumer side have also become increasingly prominent."
According to BNEF, China's total investment in clean energy in 2017 reached a record-breaking $132.6 billion, growing 24 percent on a year-on-year basis.