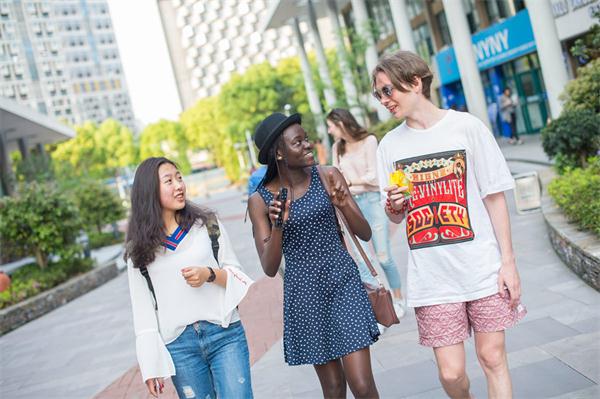 International students come to China to study in Sino-foreign joint-venture universities. (Photo provided to China Daily)
At a news conference of the 19th National Congress of the Communist Party of China in Beijing on Sunday, Chen Baosheng, the education minister, said that Chinese education's international influence has continuously increased over the past five years, and China has become the destination for the third-largest number of foreign students. Beijing Youth Daily comments:
In fact, China became the destination for the third-largest number of overseas students three years ago. Statistics from the Ministry of Education show more than 377,000 overseas students studied in China in 2014, and the number hit about 443,000 last year.[Special coverage]
However, the marked rise in the number of overseas students should be attributed more to the increasing attraction of China with the enhancement of its national power, than to the improvement in China's education.
The ministry's statistics indicate that 47 percent of the foreign students studying in China last year were studying for degrees and the rest came for short-term training of the Chinese language, or were studying Chinese culture out of personal interest.
China, as the world's second-largest economy, has bright development prospects and rich development opportunities. That explains the fast increase in the attraction of China's education in the world. Fluency in Chinese may mean more opportunities in career development.
In contrast, more than 70 percent of the Chinese students going abroad last year were studying for degrees, with nearly 36 percent studying for master's and doctoral degrees.
An important indicator of the competitiveness of a country's education is the proportion of foreign students in the total number of students on campus. The proportion is about 10 percent on average in developed countries. But the share is only 0.4 percent in China.
Also, more than 90 percent of the Chinese students studying abroad are concentrated in 10 developed countries. And only 24.71 percent of the overseas students studying in China come from developed economies.
These gaps prove the Chinese universities still have considerable potential to improve their education and research quality, and competitiveness in the world.
It is too early to take pride in China's status as the destination for the third-largest number of overseas students without explaining the driving force behind the boom.