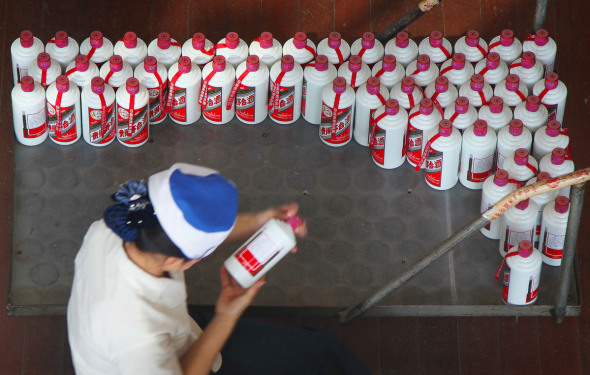 An employee works on a production line of Moutai, a brand name Chinese liquor distilled in Southwest China's Guizhou Province. (Photo by Da Shan/For China Daily)
Kweichow Moutai Co Ltd, China's signature high-end spirit maker, announced on Sunday night that Li Baofang, the current general manager, will be appointed the chairman of the group, and Yuan Renguo will step down as chairman.
Li will maintain his position as general manager and Party secretary of Moutai. The company said in a statement that the process will be handled according to relevant legal procedures.
Li, who has been working at Moutai for nearly three years, has been leading the growth of the group and the industry with his distinct personal style and strong principles.
Xiao Zhuqing, a liquor industry analyst, said Moutai's change of chairman should be good news for the company and is expected to help further its bullish sales growth.
"Moutai needs an innovative leader who is determined to forge ahead and break the rules," Xiao said.
"Li has been advocating the concept of competition and cooperation at the same time. He will also help to promote the technology advance of the industry and help to foster the influence of Chinese liquor in the international markets," Xiao said.
Li has been helping to lift the price of Moutai from the second half of 2016 and to stabilize it during this year's Spring Festival.
He has been focused on market research, emphasizing price stability and the importance of overseas expansion.
In addition, he led the management team to visit competitors such as Wuliangye Yibin Co Ltd and Gujing Group to learn from the company's peers.
Shanghai-listed Moutai closed 5.33 percent higher at 698.17 yuan ($108) per share on Monday. Based on Monday's closing price, the company's valuation now stands at 877 billion yuan, which is higher than that of London-based liquor maker Diageo Plc and Brazil-based Ambev SA.
Among the 15 listed Chinese companies with high market valuations, Moutai is the only one from the consumer sector, with the others from sectors including technology, finance, telecommunications and petroleum.
In 2017, Moutai achieved sales revenue of 76.4 billion yuan, up 50.5 percent year-on-year.
In 2018, it aims to net revenue of 90 billion yuan, an increase of 18 percent or more, and it plans to achieve annual sales revenue of more than 100 billion yuan in the near future.
A 500-ml bottle of Moutai's classic Feitian 53 percent liquor now retails for 1,580 yuan on online platform JD. In January, the price of the same product on JD was 1,499 yuan.