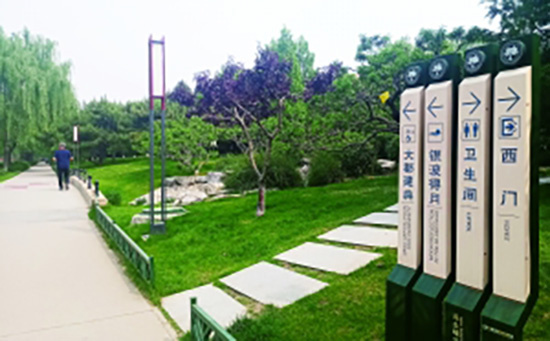 Signposts in Yuan Dadu City Wall Ruins Park. (Photo / Beijing Morning Post)
(ECNS) - Yuan Dadu City Wall Ruins Park, an urban park and historic site in Beijing, has earned unwanted attention and laughter for its poor translations of signposts.
Built to preserve the ruins of the northern city wall of Dadu, capital of the Yuan Dynasty, the park has many scenic spots with different themes including commemorative statues of cavalrymen. While not as famous as other parks in the capital city, it's still a nice place for tourists and nearby residents to gather and jog.
The most hilarious sign is at the park's west gate simply translated as "Simon," leaving many baffled as to its true meaning. West Gate is pronounced Ximen in Chinese, somewhat of the sound of "Simon."
The English translations for one spot inside the park appeared quite different in guide signs that labeled it both "Moon's Reflection in the Silver Wave" and "Moon? in the Silver Wave" with a question mark.
The Department of Landscape and Forestry of Haidian District, administrator of the park, said the translation errors will be corrected soon, Beijing Morning News reported.