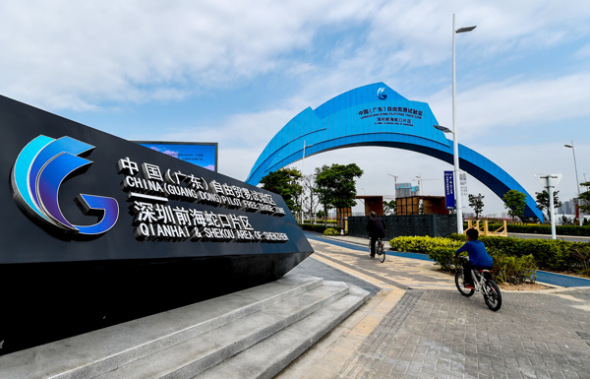 Qianhai Pilot Free Trade Zone. (Photo provided to China Daily)
The Qianhai Pilot Free Trade Zone in Shenzhen is expected to expand cooperation with Hong Kong in the coming years.
Wang Jinxia, deputy director of China (Guangdong) FTA Qianhai Shekou's administrative committee, said the zone adjacent to Hong Kong has unique advantages to deepen cooperation and become a new area for Hong Kong companies' industrial transformation and upgrading in the future.
Currently, major companies including HSBC, BEA, HKEX Group, Kerry Group, Chow Tai Fook, New World and Wharf Holdings Ltd have set up their facilities, subsidiaries or branches in Qianhai.
Wang said more laws and regulations will be introduced to protect the legal interests of overseas-funded companies and ensure an efficient and transparent government operation.
He said Qianhai still has a lot of room for expanding cooperation with Hong Kong. Zone leaders plan to offer about one-third of the zone's land to companies from Hong Kong.
And many cooperative opportunities have been created under the country's Belt and Road Initiative and the Guangdong-Hong Kong-Macao Greater Bay Area plan.
Qianhai also plans to become a regional financial center through expanding cooperation with Hong Kong, one of the major international financial centers in Asia, as the financial industry has great potential for growth in Qianhai, according to Wang.
"In addition to investments, Qianhai FTZ hopes to attract more talents in the finance industry from Hong Kong and gain more management experience," Wang said.
Moreover, Qianhai hopes to attract offshore companies to help develop its cross-border finance, e-commerce, modern logistics and new and high-tech industries, according to Wang.
To this end, preferential policies in taxation, financing, land use rights, foreign trade and customs have been put in place, aiming to further improve Qianhai's investment climate in line with international practice, he said.
"Hong Kong companies and investment are playing an important role in Qianhai's economic development," Wang said.
According to official statistics, Qianhai had attracted 8,031 Hong Kong companies by the end of March, with a registered capital of 893.7 billion yuan ($141 billion).
And the actual investment from Hong Kong to Qianhai witnessed an annual growth of 206 percent in the past three years.
Last year alone, 2,482 Hong Kong companies, with an investment of 314 billion yuan, settled in Qianhai.
By the end of last year, more than 164,900 companies from home and abroad had registered in Qianhai.