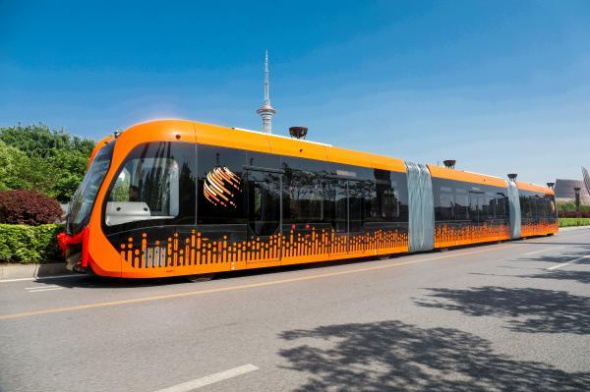 The Autonomous Rail Rapid Transit (ART) starts a test run in Zhuzhou, central China's Hunan province on May 8, 2018. (Photo/thepaper.cn)
The world's first virtual track vehicle, the Autonomous Rail Rapid Transit (ART), starts a test run which will last for three months in Zhuzhou, central China's Hunan province on May 8, 2018, reports rednet.cn.
The ART is developed by China Railway Rolling Stock Corporation (CRRC).
This is another milestone, marking that the CRRC has been capable of commercializing its independently developed ART system since its debut in October 2017.
According to Fu Cuiqing, vice engineer with China Railway the 4th Survey and Design Group, the ART resembles a streetcar in shape, length and accommodation.
With three carriages, it can accommodate 307 passengers, while more carriages can be added if needed. It has a top speed of 70 kilometers per hour, enabling it to ease traffic jams.
Compared with streetcars, which need to run on tracks, the ART runs on rubber tires along white-dotted lines on the test ground. It is controlled by signals wireless transmitted through sensors, assuring its safety, priority and speed.
Its cost is also only one-fifth of that of street cars. Its battery can support running over 25 kilometers with just 10 minutes of charging. Currently, it is capable of half-automated driving. Its engineers are also considering using the Beidou navigation system to achieve full automated driving later.
Passengers can take the ART by scanning QR codes, swiping Zhuzhou bus cards and ID cards.