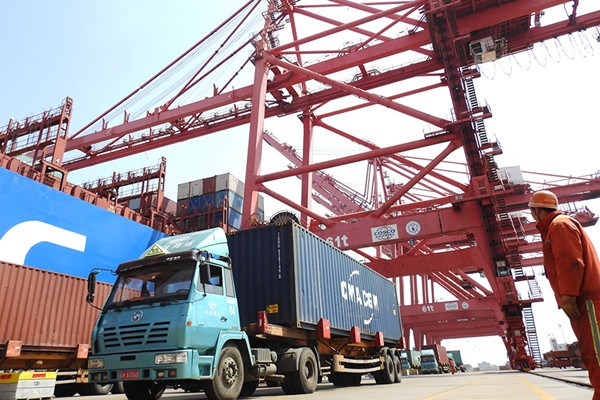 A harbor employee oversees cargo unloading in Lianyungang Port, Jiangsu Province. (Photo/for China Daily)
Nation's economy may gradually bottom out this year, says analyst
The World Bank raised China's GDP growth forecast for this year to 6.5 percent on Thursday, up from 6.4 percent in its last forecast in January. Analysts said the Chinese economy may gradually bottom out this year, with quality of growth continuing to improve.
The World Bank also said in its updated growth forecast report for the East Asia and Pacific region that China has achieved headway in its economic restructuring.
"After growing faster than anticipated in 2017, China is expected to slow moderately to 6.5 percent in 2018 as its economy continues to rebalance away from investment and toward domestic consumption with policies that focus more on slowing credit expansion and improving the quality of growth," the report said.
Hu Yuexiao, chief economist of Shanghai Securities, said that the world's second-largest economy may start to bottom out this year and the basic trend will be "stable and improving growth".
"Although its GDP growth rate has not picked up significantly, the quality of growth has improved," he said. "As investment stabilizes and corporate profit levels rise, the market will become more confident in the country's economy."
China's GDP growth was 6.9 percent year-on-year last year and it is scheduled to release its first-quality growth-related statistics next Tuesday. Analysts have widely anticipated growth to be 6.8 percent in the first three months.
The solid growth of the Chinese economy will forcefully help push global economic recovery and provide unprecedented development opportunities for people of other countries, the National Bureau of Statistics said on Thursday.
China's mid and high-rate growth in recent years has made it an indispensable engine and stabilizer of global economic recovery and sustainable development, the bureau said in an article published on its website.
From 2013 to 2016, the proportion of China's GDP in the global total increased from 12.5 percent to 14.8 percent and its average annual GDP growth during that period was 7.2 percent, much faster than that of the United States, eurozone economies and Japan, the bureau said.
The NBS' estimate shows that from 2013 to 2016, the average annual growth of the world economy would have slowed by 0.6 percentage point if China's contribution is not taken into account. This year, China's contribution to global economic growth may reach 34 percent and it will account for 15.3 percent of total global GDP if the world economy expands at about 3 percent as predicted by the World Bank, the bureau said.
China's large population and stable economic growth have provided great room for development of enterprises from all over the world, the NBS said. "More and more enterprises from the developed economies have entered the China market and made huge profits and strengthened cooperation with the Chinese side."
In 2015, for example, U.S. exports of goods and services to China created 910,000 jobs in the US, the NBS said, citing statistics of the U.S. Department of Commerce.