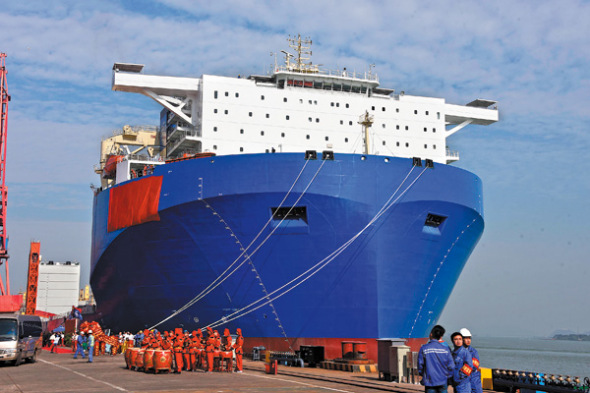 Semi-submersible vessel named New Guanghua, the largest of its kind in China, built by COSCO Shipping Specialized Carriers, a subsidiary of China Ocean Shipping (Group) Co, is put into operation in Guangzhou at the end of 2016. COSCO Group has also established its bulk cargo shipping business' headquarters in the capital of Guangdong province. (Photo by Zhong Xin/China News Service)
Guangzhou's business-friendly policies are attracting and nurturing high-tech emerging industries
Guangzhou's success in bidding to play host to the 2017 Fortune Global Forum is thanks to the acclaimed business-friendly environment it has established.[Special Coverage]
The city provides fertile ground for the blossoming of innovation and entrepreneurship, said Luo Zheng, an official with the city's commission of commerce.
Of the 50 most innovative companies in China, 13 are located in Guangzhou, according to statistics from business magazine Fast Company headquartered in the United States.
A spokesman for Sinomach Intelligence Technology, which is located in Guangzhou Development District, a key scientific and technological innovation hub in the city, said that to improve its competitiveness, Guangzhou has implemented a series of preferential policies in recent years to support the city's industrial transformation and upgrading.
Guangzhou Development District's well-established industrial foundation for manufacturing intelligent machines and well-planned robotics industrial park, combined with the local government's highly efficient and pragmatic services, create an ideal environment for the Sinomach Intelligence Technology, the spokesman said.
The company, co-funded by the Guangzhou government and Sinomach, a major Chinese machinery manufacturer on the Fortune 500 list, specializes in the research and production of robots and intelligent machines and components. The company's goal is to go public in three to five years and generate 5 billion yuan ($756 million) in annual business revenue by 2020.
As of September, 297 Fortune Global 500 companies had invested in more than 920 projects in the capital of Guangdong province in South China, according to the city's commission of commerce.
One of these was a strategic cooperation agreement the local government signed with China Ocean Shipping (Group), also known as COSCO, which is another Fortune 500 company, in June 2016.
The shipping conglomerate's affiliate, COSCO Shipping Bulk, began operations with its headquarters in Guangzhou, a move that reinforced the city's status as an international transportation hub.
The company with total assets of 74.8 billion yuan ($11.3 billion) focuses on the transportation of iron ore, coal, grain and other bulk cargos, and has a shipping network covering more than 1,000 ports in roughly 100 countries and regions.
Guangzhou Port ranked No 6 worldwide in terms of yearly throughput of shipments and took seventh place by the number of containers it handled in 2016, according to the commerce commission.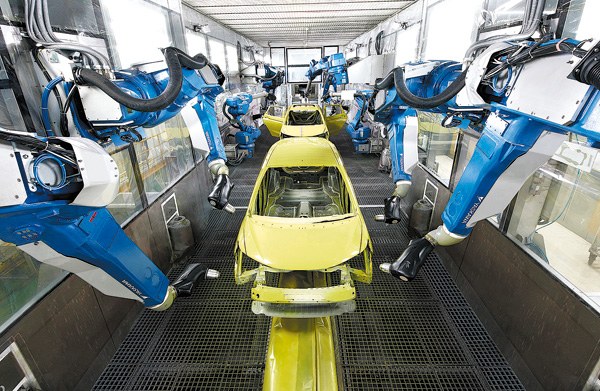 GAC Honda's painting plant in Guangzhou. The joint venture by local automaker Guangzhou Automobile Group and its Japanese partner Honda is one of hundreds of investment projects funded by Fortune 500 companies in Guangzhou. (Photo provided to China Daily)
With a large population, Guangzhou has a huge market with enormous opportunities and potential, Luo said, adding that its GDP is equivalent to that of Singapore.
The city is playing a key role in the development of the Guangdong-Hong Kong-Macao Greater Bay Area, which aims to become the world's largest bay area by GDP in 2030. Given the total population in the bay area, Guangzhou's growth potential, technological prowess and business prospects are "inestimable", Luo said.
Guangzhou has a population of more than 14 million while the entire population of Guangdong province has topped 100 million.
Government data show that some 30,000 foreign-invested companies had a presence in Guangzhou by the end of September. In the first three quarters of this year, the city reported 688.89 billion yuan in total retail sales of consumer goods, which ranked No 3 nationwide, and it secured $5.64 billion in foreign investment, an increase of 13.4 percent year-on-year.
The city's foreign trade increased 17.9 percent year-on-year to 738.78 billion yuan during the three quarters.
It has ranked the best Chinese mainland city for its business-friendly environment five times by Forbes magazine. It was upgraded to the Alpha level of the top 50 global cities in the World Urban System Rankings 2016 released by the Globalization and World Cities Research Network.