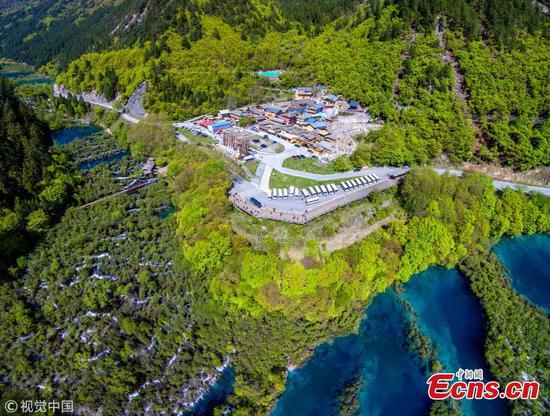 Photos taken on May 3 and 4 show the superb mountainous landscape and stunning scenery at the UNESCO World Heritage Site Jiuzhai Valley which reopens gradually after a 7.0-magnitude earthquake struck the popular tourist destination last August. The park will reopen partially as the restoration will be completed in three years. (Photo/VCG)
UNESCO World Heritage Site Jiuzhai Valley will close temporarily after torrential rain caused a landslide in the resort.
The resort will close on July 1 and reopen at an unspecified time.
Advance tickets can be refunded.
The landslide struck on June 25 following a rainstorm and more heavy rain is expected. The local land resources department has issued an alert for high risk of geological disaster.
Jiuzhai Valley in the mountains of the eastern edge of the Qinghai-Tibet Plateau is well-known for its ethnic minority communities and stunning scenery.