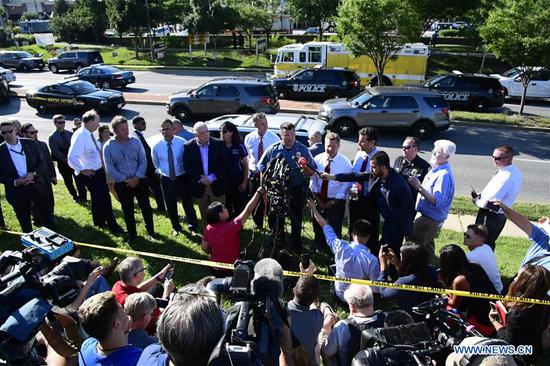 A police officer speaks to the media near the scene of a mass shooting in Annapolis, the capital city of eastern U.S. state Maryland, on June 28, 2018. (Xinhua/Yang Chenglin)
Five people were killed on Thursday afternoon with several injured in a mass shooting at local daily newspaper Capital Gazette in Annapolis, the capital city of eastern U.S. state Maryland, police said.
The suspect, a white male, was not cooperative and had damaged his fingers in possible efforts to disguise his identity, police said, with no more details on his motive behind the shooting.
Police found the shooter hiding under a desk in the building with his weapon on the ground and "not in his immediate proximity," said Steve Schuh, Anne Arundel county executive.
Police also found a package or carrying device, which contained a flammable liquid, on the ground of the building, he added.
"It looks like it was amateur hour. But even amateurs can cause a lot of damage in the absence of excellent response by law enforcement. We fortunately had that in this instance," he said.
Multiple media reports said the suspect opened fire with a shotgun.
Preliminary indications were that the shooter was acting alone, according to the police.
"Gunman shot through glass door and opened fire. Employees could hear gun being reloaded," a reporter for the newspaper, Phil Davis, tweeted.
"There is nothing more terrifying than hearing multiple people get shot while you're under your desk and then hear the gunman reload," he said in another tweet. He later clarified that he was already safe when he started tweeting.
Davis said the shooter, after multiple shooting, just stopped firing.
"I don't know why. I don't know why he stopped," he said.
U.S. President Donald Trump has been briefed on the shooting, said White House deputy press secretary Lindsay Walters.
"My thoughts and prayers are with the victims and their families. Thank you to all of the First Responders who are currently on the scene," Trump wrote on Twitter.
Following first reports of a shooting around 2:40 p.m. local time (1040 GMT), police cars were seen swarming the scene while people were seen streaming out of the building with their hands up.
"When I was at the intersection right here, the police just swarmed in and everyone came in seconds," local resident Rebecca Oakley told Xinhua.
"I did witness the officer rushing up to the building and they brought out with some people with their hands up and got them to safety," Oakley said.
The Capital Gazette is owned by The Baltimore Sun located in Baltimore.