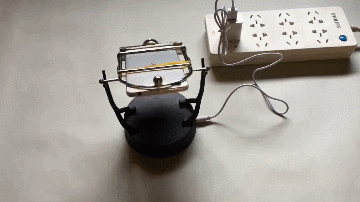 Keeping fit has become fashionable, even more so after mobile phone applications that enable people to show off their workout records on social media got released, but walking or jogging for an hour a day is not an easy-to-keep habit for everyone. For those who do not have enough time to exercise but still want to compete with their friends in this regard, China's online retailers have offered an effective solution which has been warmly welcomed.
A pedometer-cheater, as seen in the top image, is a swing device that can go back and forth once charged. When you place your smartphone, sports bracelet or any kind of pedometers on the holder, it swings with the device as if it was carried or worn by a person who is walking or jogging. In that way, the pedometer is deceived and will note down how many steps it feels you have taken.
According to sales records on Taobao, over 25,000 such devices have been sold in one shop in the past month alone. And there are at least hundreds of such shops on the online shopping website.
How well does it work?
Customers' reviews said this device is able to add "6,000 to 8,000 steps per hour" to one's exercise records, "sometimes over 10,000 steps."
"It's so useful and creates little noise. It works well for all my three smartphones (of different models). Wonderful!" goes one of the comments.
The price of such a device varies from 10 to around 40 yuan, only a few US dollars. Many said that for that price, they are "quite satisfied" with its performance.
To make their products more attractive, some online stores even applied for patents for their pedometer-cheaters and advertise the gadget being anti-magnetic, more efficient and smarter – which means it swings at different frequencies so that the results it gets will be closer to what a runner will get in real settings.
What's behind this?
Contrary to netizens' craze for this "data-helper", experts warned of the distorted need for social approval and the marketing tricks behind it.
Some users collect their steps for they can top the list of "the one who exercises most" on social media, which gives them a sense of achievement. But without a doubt, ranking first by cheating means nothing and is nowhere close to the purpose of exercising.
Some want to reach a certain walking distance every day because some online shops allow them to exchange the number of steps for discounts or bonuses, which is actually a method of promotion.
It's an empty game in which the user is a "cheater" and regards others as "fools", one of the experts said.