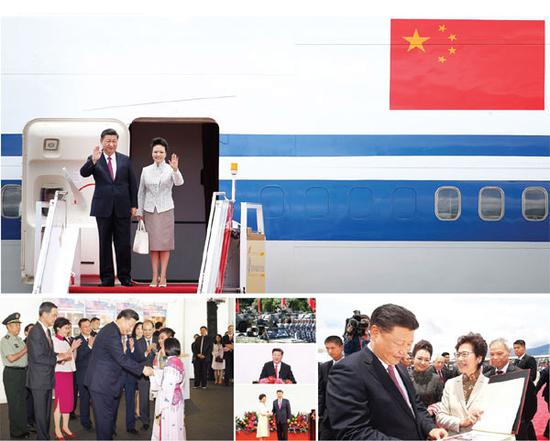 Moves to improve conditions for HK people on mainland boost city's integration with national development.
A year after the nation's top leader Xi Jinping made his first inspection tour of Hong Kong as president, a series of measures have been rolled out to help the city's development and livelihood issues.
Those efforts came after Xi outlined the central government's support for Hong Kong's integration with the country's overall development.
In his speech on July 1 last year, during the three-day inspection tour, one of the strongest pledges Xi made was to help people from the city who wanted to study, work and live on the mainland, offering more opportunities for Hong Kong compatriots seeking development opportunities.
Later, in August and December last year, the Hong Kong and Macao Affairs Office of the State Council announced two batches of measures offering convenience to Hong Kong people on the mainland in education, employment, business and travel.
The most timely and helpful measure is phasing out the employment permit requirement for Hong Kong people working on the mainland, explains Kuo Wai-keung.
Kuo is a Hong Kong-born entrepreneur operating a startup in Qianhai, a free-trade zone in Shenzhen which is the first area to implement the new policy.
An employment permit mechanism has been imposed on residents from the Hong Kong and Macao special administrative regions and Taiwan since 2005.
The permit, a must for people from the three places to work on the mainland, should be renewed every two years.
Kuo said the change meant the company's Hong Kong employees no longer need to extend their work permits when their contracts expire. Time needed to recruit new staff from Hong Kong has been reduced by "at least two months".
The change significantly dismantled a major obstacle for Hong Kong people seeking to pursue careers on the mainland, Kuo said. "I believe this will encourage more from Hong Kong to take their first step in the huge market," he added.
Similar measures included a national administrative order to give Hong Kong and Macao people equal rights to the mainland's housing fund. Zhuhai - a Guangdong-Hong Kong-Macao Greater Bay Area city - responded this month, by allowing Hong Kong and Macao people who work in the city to join the Housing Provident Fund system, making them eligible for low-interest housing loans.
Moreover, the education authority set up scholarships dedicated to students from Hong Kong and Macao to sponsor their studies on the mainland, with larger quotas and more money.
The National Social Science Fund is now also open to applicants from Hong Kong and Macao.