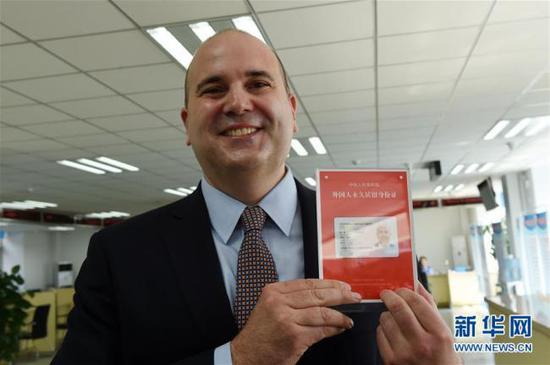 A foreigner shows his permanent residence identity cards in Beijing on June 16, 2017. [File photo: Xinhua]
China has approved permanent residency for more than 1,800 foreigners since April, among those 606 are from Beijing, local authorities said Thursday.
Beijing Municipal Security Bureau said that they had issued permanent residency identity cards to the 606 foreigners, including global talent from diverse fields attracted by the government-led "Thousand Talent" program, and entrepreneurs, as well as their spouses and children.
A series of policies to attract more foreign talent to the national capital has been carried out in recent years, including facilitating the entry and exit procedure, shortening the time for the permanent residency application, and improving related services for their families.
The municipal entry and exit administration bureau accepted 598 applications for permanent residency in 2016, increasing to 662 last year.