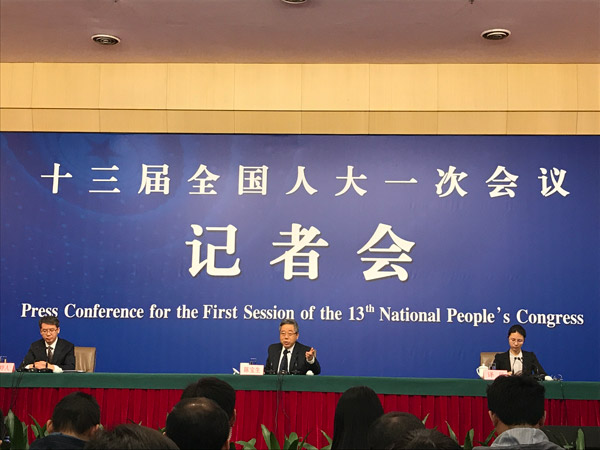 Education Minister Chen Baosheng at a news conference on the sidelines of the ongoing annual two sessions March 16, 2018. (Photo/chinadaily.com.cn)
China will further strengthen training, and increase the number of, kindergarten teachers and caretakers to offer safer, cheaper and more convenient preschool education to children, Education Minister Chen Baosheng said on Friday. [Special coverage]
China has 46 million preschool children but there is a shortage of 710,000 kindergarten teachers and 760,000 caretakers based on the proportion of one teacher for 15 children and one caretaker for 30 children, Chen said at a news conference on the sidelines of the ongoing annual two sessions.
"The shortage of teachers and caretakers is expected to reach 1 million and 900,000 respectively by 2020," Chen said.
The country will continue to increase salaries for kindergarten teachers so that college students majoring in preschool education will not choose another profession, he said.
"Preschool education has enjoyed the quickest development in recent years, but it is also the weakest link in China's education system," Chen said.
The legislative process will be accelerated and a law will be drafted on preschool education, Chen said, adding that it will take time to promulgate the law.
The country will strengthen supervision on all kinds of kindergartens to raise quality and ensure children's safety, which requires concerted efforts in improving personnel, facility and technology in kindergartens.
Currently about 80 percent of the country's preschool children are enrolled in kindergartens, and the ministry has set the target of raising the enrolment rate to 85 percent by 2020, said Liu Limin, a former vice-minister of education at a news conference earlier.
China in recent months has seen suspected child abuse cases in kindergartens. In one case, a female teacher surnamed Liu from the RYB Education New World Kindergarten in Beijing was arrested in December after the procuratorate accused her of using needles to "discipline" children.