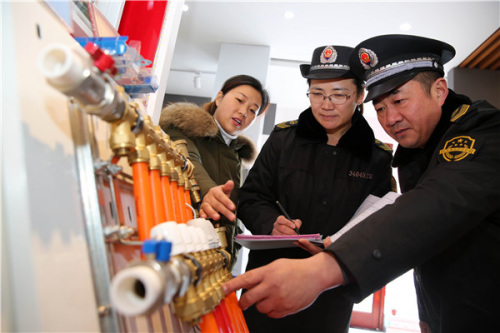 Inspectors check the quality of heating devices in Huaibei, Anhui Province, in December. (LI XIN/FOR CHINA DAILY)
A State-level administrator to regulate markets and oversee business operations, conduct antitrust investigations and ensure food and drug safety was proposed in a draft plan submitted to the national legislature for deliberation on Tuesday.
Functions of the existing State Administration for Industry and Commerce; General Administration of Quality Supervision, Inspection and Quarantine; and China Food and Drug Administration would be combined, and those bodies would be dismantled.
The plan was submitted by the State Council during the ongoing session of the 13th National People's Congress. [Special coverage]
Major proposed responsibilities for the administration include comprehensive market supervision and management, market entity registration and maintenance of market order.
The proposed functions of the new regulator include the major authority to conduct antitrust investigations, currently a function of the National Development and Reform Commission, and the Ministry of Commerce.
The proposal is part of a major push in China to build a unified, open, modern market system. It is designed to perfect regulatory mechanisms, create a level playing field and promote China as a great power of high quality.
Fan Peng, a researcher at the Chinese Academy of Social Sciences' Political Science Research Institute, said the purpose of the new regulatory body is to consolidate what are now separate functions in various departments. The new structure is closer to the international model, Fan said.
It will help in building a modern and efficient regulatory environment, Fan said.
The plan would also expand the functions of the National Audit Office to boost auditing efficiency by putting the auditing functions of various government agencies into one office.
A new national audit office, if approved, would be responsible for auditing the authenticity, legality and efficient use of the country's money, as well as that of other entities under the office's supervision.
China also plans to merge State and regional tax administrative bodies at the provincial level and below under the shared management of the State Administration of Taxation and local governments.
The annual Government Work Report delivered by Premier Li Keqiang last week said the central authorities intend to reduce the tax burden on businesses by simplifying the value-added tax from three brackets to two, and by lowering rates this year.